Opening Minds and Roads in Pakistan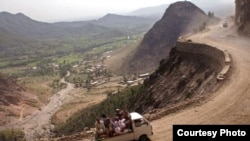 In late January, Pakistani security forces closed the vital Thal-Mir Ali road in Pakistan's North Waziristan over concerns that the Taliban was using it to supply their fighters. Closing the road caused many hardships for the region's residents, but reporting by RFE/RL's Radio Mashaal on their plight led to its reopening a week later.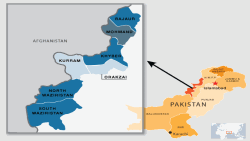 Winding through hilly terrain, the road links the city of Thal in the Khyber-Pakhtunkwa province with Mir Ali, North Waziristan's second largest town and an important center of commerce and services for local residents. Mir Ali is also a well-known hub for insurgent groups, including not only the Taliban, but also al-Qaeda and the Haqqani network. The area surrounding Mir Ali sees frequent operations by the Pakistani military and has been the target of U.S.-led drone strikes. Although there is no definitive evidence of the Taliban using it, local authorities suspect that the road plays an important role in organized insurgent activity in the area.
In addition to the road's strategic significance, it also provides neighboring villages with access to the local market. Its closing prevented residents from selling their goods and obtaining much-needed supplies. When security forces first closed the road, residents tried without success to persuade the political authorities to open it. That's when they contacted Radio Mashaal reporters, who put their grievances on the air.
Upon hearing the reports government representatives, members of what is known locally as a jirga (council), met to resolve the issue. The decision was made to reopen the road, release people who had been previously detained for using the road in violation of the ban and return their confiscated vehicles.
In addition, tribal leaders pledged to prevent the Taliban from further using the road and the security forces increased their presence and patrols in the region. To date, there been no new reports of militants using the road and the area is relatively peaceful.
"We are very thankful to Radio Mashaal for the way they presented the issue during the last several days. Even if we thank them a thousand times, it is still little appreciation," Liaqat Khan, a resident of Spinwam, told Mashaal's managers.
Radio Mashaal works in close cooperation with the people of Pakistan's northwest tribal area, filling much of its airtime with coverage of local issues that are otherwise underreported or unaddressed. It serves as a bridge among local security forces, officials and communities, a role that benefits all sides, says Radio Mashaal's Director Mohammad Amin Mudaqiq.
Radio Mashaal's reporting helps bring resolution to local needs and, Mudaqiq adds, "the military and politicians are well aware of the potential for backlash from residents if their issues are left untouched."
--Daniel Janik