Remembering Iraj Gorgin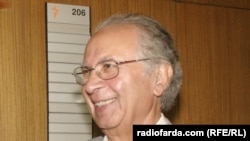 Radio Free Europe/Radio Liberty mourns the passing of Iraj Gorgin, former editor-in-chief of Radio Farda, RFE/RL's Persian-language broadcast service.
Iraj passed away on January 13 after battling illness in Washington, D.C. He will be greatly missed by his former colleagues and many friends in Prague, where he worked from 1998 to 2009.
During his time at RFE/RL, Iraj was instrumental both in the management of Radio Farda and in the launch and operation of its predecessor service, Radio Azadi, where he served as deputy director and acting director. He shaped the style and content of both services, helping them to win strong audience confidence as trusted sources of news and cultural programming.
What Iraj brought to RFE/RL was 50 years of experience as a professional journalist, first in Iran and then in the United States.
Starting in 1957 as a reporter with "Keyhan," a daily newspaper in Tehran, he rapidly moved up in the media world, holding key jobs in print, radio, and television. He worked as the managing director of Radio 2, one of Iran's national radio stations; managing director of the Second Network of National Iranian Radio and Television (NIRT); and editor-in-chief of "Tamasha" magazine, a popular weekly dedicated to the arts, entertainment and literature.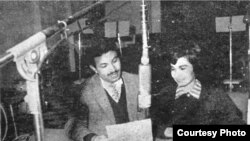 During these years, he traveled extensively as a correspondent to cover major world events, once coming under fire along with his cameraman during a war-reporting trip in Cambodia. He also produced a documentary on Iranian artifacts in Russia's Hermitage Museum.
After leaving Iran at the time of the 1979 Islamic Revolution, Iraj moved to California where he became a leading media figure within the Iranian-American community. He founded the first privately owned and independent Persian-language radio, Radio Omid (Hope), and grew it from one hour of broadcasting a day to five. The "Christian Science Monitor" called Radio Omid "The Voice of Reason" within the Iranian Diaspora and the "Los Angeles Times" called it "The Voice of Iranians."
Iraj subsequently founded a bilingual news and culture website and was continually active in community activities. He produced a documentary which continues to raise funds for the Encyclopedia Iranica, an ongoing project at the University of Columbia to create the definitive reference work on Persian culture. He raised more than $350,000 through a television telethon to help the victims of a devastating earthquake in Iran.
During his many years in journalism, Iraj was often sought out to speak at university lectures on Iranian affairs or to comment to the media about events in Iran. He was an articulate source of information on an exceptionally wide range of subjects, partly due to his experience and partly due to his own continuing love of education. He earned a B.A. in Persian Literature at Tehran University, followed by an M.A. in Communications Management at Annenberg School of Communications at the University of Southern California. He also took part in courses on radio and television management in Tokyo, London, Paris, Brussels, Boston and Prague.
Iraj will be remembered for his many achievements at two memorial services at U.S. universities this month.
On January 22, there will be a memorial ceremony in the Howard Frank Auditorium of the University of Maryland, where Iraj regularly attended the Roshan Center for Persian Studies and spoke several times.
On January 29, there will be another memorial at the University of California, Los Angeles.
Iraj is survived by his wife Azam and his son Afshin.
-- Charles Recknagel