U.S. Army Generals Visit RFE/RL's Headquarters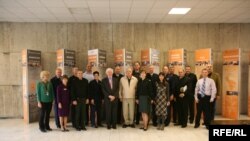 14 newly-promoted U.S. Generals visited RFE/RL's Prague headquarters for briefings and a discussion with RFE/RL's Radio Free Afghanistan.
The group was briefed by RFE/RL Chief Editor John O'Sullivan, Georgian Service Director David Kakabadze, Radio Farda Editorial Director Golnaz Esfandiari, and Radio Free Iraq Service Director Sergei Danilochkin. Following the briefing, Radio Free Afghanistan (RFA) deputy director Hashem Mohmand hosted the group for a discussion of recent political developments in Afghanistan, including presentations by RFA journalists Helena Malikyar and Abubakar Siddique.

The visit was part of the "Capstone" program, a congressionally mandated, Chairman of the Joint Chiefs of Staff directed, Professional Military Education Program for newly selected/promoted General and Flag Officers.