Farzana Shaikh Discusses Pakistan with RFE/RL Journalists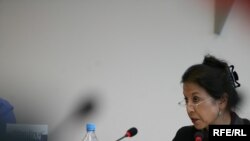 Farzana Shaikh, Director of the Pakistan Study Group at the Royal Institute of International Affairs (Chatham House) in London, visited RFE/RL's Prague Headquarters on June 5 for a discussion on Pakistan's history and its future. The round table talk was based on Shaikh's new book, "Making Sense of Pakistan," which details the cultural, religious, and societal contrasts in Pakistan, and what the confluence of those factors may mean for the country going forward.

While many commentators have warned of the potential break-up of the Pakistani state, Ms. Shaikh offered her view that Pakistan already exists as a loose federation. She explained that the future could see more autonomy for the tribal regions of northwestern Pakistan, but that it would not necessarily be the end of Pakistan as a state. She pointed to the constant struggle, since Pakistan's founding, among various religious, political, and military elements in the country to define exactly what "Pakistani-ness" truly is beyond being "not India."