Independent Journalists in Belarus Suffer Attacks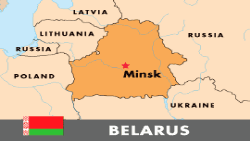 Independent Belarusian journalist Zmicer Halko was severely beaten by five men near a Minsk railway station on Sunday, November 29 in an attack that left him with a concussion and a broken rib. Halko told RFE/RL that he did not recognize his attackers, who also robbed him of 150000 rubles, or the equivalent of about 50 USD, and is unable to judge whether or not the attack was a response to his professional activities. Halko is a popular blogger in his native Belarus who writes reviews of the Belarusian blogosphere and covers opposition events for the site svaboda.org
Several other independent journalists in Belarus have suffered attacks this year, in several cases at the hands of police while they were covering political events. Photojournalist Ulaczimir Hrydin was detained and beaten by police on two occasions while covering opposition rallies in the capital city in July and in October 2009. Lubou Luneva, a reporter, was also attacked by police at an opposition event in Minsk in July. In a fourth incident, the car of Mihas Karnevich was vandalized in plain view of the police while he was reporting on an opposition conference in the town of Astravec in October.
The attacks take place against the backdrop of concerted efforts by the European Union and Belarus to normalize relations. In a meeting of foreign ministers in Brussels last month, the bloc declared that it would maintain aspects of the status quo, including travel sanctions brought against several top officials after flawed presidential elections in 2006, while offering some encouragement as well. Speaking for the current EU Presidency at the November
meeting
, Sweden's Foreign Minister Carl Bildt said, "we are still in a period of engaging with authorities in Belarus to try to move them further in the direction of European values." A
statement
issued by the European Council at the conclusion of the November meeting cites "new possiibilities.... for dialogue and deepened cooperation between the EU and Belarus" but "deeply regrets the recent lack of significant progress in addressing its concerns in the area of
human rights and fundamental freedoms, including as regards the crackdown on peaceful political actions and the continued denial of registration of many political parties, nongovernmental organisations and independent media."