A Baku court ruled on March 10 to reject an appeal and uphold the convictions of Adnan Hajizade and Emin Milli, two Azeri bloggers who were imprisoned last November on charges of "hooliganism" that observers around the world have condemned as
fabricated
.
Following the ruling, RFE/RL's Azerbaijani service spoke with Hikmet Hajizade, Adnan's father, about the ordeal of his son's incarceration. For him and his wife, Bahar Hajizade, the verdict was the end to their hopes for justice.
"It was a great disappointment for us that fills us with desperation. I find this decision unjust, [it's an] unfounded cruelty against our children," Hajizade said.
Hajizade believes that the hooliganism charges brought against the bloggers were contrived to silence two outspoken activists who appealed to the country's youth and criticized the government online. A sarcastic "
donkey video
" that they produced together and posted online ridiculing the government's payment of exorbitant fees to import donkeys from Germany takes aim at government corruption, and is believed to be the immediate cause for their arrest. Asked whether Internet criticism is a crime in Azerbaijan, Hajizade replied unequivocally: dissent equals punishment.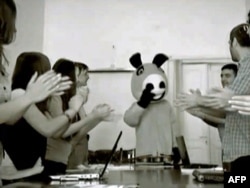 Azerbaijan -- Undated video still image released by OL youth movement showing an Azerbaijani blogger dressed in a donkey suit giving a press conference in Baku, 28Aug2009
"Yes, believe me," he said, "this is a big crime. Everybody should shut up here. We became more like the former Soviet Union. Whoever disagrees, he would be punished." Remarking that Adnan is his only son, he added that, "Our son is not the only man imprisoned for his ideas."
Apart from seeing their son in court, Adnan's parents have been allowed to visit him in jail only twice since his arrest in July 2009. "Our legislation requires special permission from a judge for prison visits and this permission is not easy [to obtain]," Hajizade explained. "We are desperate about that."
Foreign governments,
media freedom advocates
and
international organizations
have protested the bloggers' treatment and called repeatedly upon Azerbaijani authorities to release them. Although these appeals have gone unheeded, Adnan's father believes they are important and worthwhile.
"I want to express my gratitude to those international human rights groups and also politicians who supported our children and did many things for them. Unfortunately they haven't brought sanctions but in any case we are very grateful to them," he said, adding, "This moral pressure," on their behalf and on behalf of others, "should be continued."
Reflecting on his son's fate, Hajizade quoted the American naturalist and philosopher Henry David Thoreau, an author and practitioner of the doctrine of 'civil disobedience.' "Under a government which imprisons unjustly," Thoreau wrote, "the true place for a just man is also a prison."
Anna Zamejc, RFE/RL Azerbaijani Service