Radio Mashaal Wins News Award For Coverage Of Killing Of Anti-Taliban Minister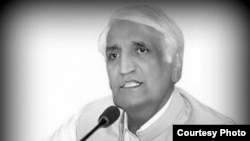 Pakistani provincial leader Bashir Bilour died on December 22 as a result of injuries he suffered in a suicide bomb attack, blamed on the Pakistani Taliban, which killed eight others and wounded more than 17. Bilour had been known as one of the few major politicians in Pakistan who was outspoken about his anti-Taliban and pro-secular stance.

RFE/RL posted a story about his death on the English-language website within three hours of Bilour having been killed. The day after the attack, Radio Mashaal issued analyses, interviews, and a video interview with Bilour taken by Mashaal just three days before his death. Mashaal correspondents were also able to speak with members of Bilour's family at the hospital where he died in Peshawar and process this material quickly for the Central Newsroom, so that the news could be used by all other language services.