(WASHINGTON, DC)
In a wide-ranging debate on Russian media coverage of the financial crisis, Kommersant's Washington Bureau Chief, Dmitry Sidorov said "there is no critical analysis of the crisis in the Russian media whatsoever." But ITAR-TASS's Washington Bureau Chief, Andrei Sitov, strongly disagreed: "To the extent that coverage is thin, it's mainly due to the fact that it's not our crisis."
"In Russia, the media is free only when the Kremlin allows it to be," said Sidorov, who also contributes to Forbes.com. Calling Putin's Russia a "dictatorship," Sidorov said, "There is no way for ordinary Russians to get credible, reliable news except via the Internet, which is relatively free due to its small audience."
Sidorov and Sitov spoke at RFE/RL's Washington, DC office during a briefing titled
Muzzled Media: Coverage in Russia of the Financial Crisis
. Joining them was independent consultant Daniel Kimmage, RFE/RL's Brian Whitmore (via videolink from Prague) and Hudson Institute Senior Fellow David Satter, who moderated the discussion.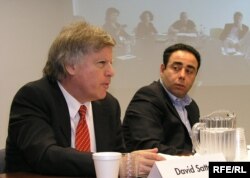 David Satter (left) and Dmitry Sidorov
"It's not that Putin and Russia's leaders are broadcasting outright propaganda like during the Soviet era," said Kimmage. "The situation is more of information manipulation. The Kremlin subtly spins its message by, for example, crafting an official message for the global audience that contains subtexts for domestic consumption."
Sitov, a journalist with Russia's largest state-controlled media company, said he is "not muzzled at all." Citing coverage of an alleged Putin affair, he said the Russian media does, in fact, criticize its leaders.
According to Kimmage, though, "there is no evidence of a process where the media brings something to light that influences the Russian elite or forces the government to react."
"For example, there is a complete absence of reporting on the financial interests of the Russian leaders," he said.
Whitmore, co-author of RFE/RL's popular Power Vertical blog about Russia, said independent media voices in Russia do exist, "but you have to play detective and connect the dots."
"The information is there - especially on the Internet - but it is not being carried on television," he said. "Based on TV coverage, one would get the impression that the Russian government is united in its handling of the financial crisis. But, by digging through online news sites and knowing where to look, one sees that the elite is very much divided on the issue."
The group noted that this is the first financial crisis in recent memory to strike Russia after a period of extended growth. Satter observed that "this improvement in economic conditions came after years of sacrifices in the interest of someday having a more decent European standard of life."
"But that standard is now threatened and it will be very important to see how the press depicts events to the Russian people," he said. "It seems to me that, if Russians are exposed to a fictitious view of reality - when they can see the genuine reality every day in their own lives - we could face a very explosive situation in Russia and the possibility of instability."