RFE/RL's Esfandiari discusses Iranian protests on FOX News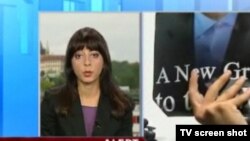 (PRAGUE/WASHINGTON) During an interview today on "FOX and Friends," RFE/RL Senior Correspondent Golnaz Esfandiari said Iranian youth have been emboldened by the recent protests.

"We've been getting reports that people are chanting 'death to the dictator,' and by dictator, they mean Ayatollah Khamenei, the Supreme Leader of Iran," she told host Clayton Morris. "So lots of young people are ready to challenge the Leader, even though they know there might be bloodshed."