RFE/RL Kyrgyz Journalists Win BBC Awards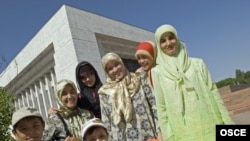 (PRAGUE, Czech Republic) Two reporters from RFE/RL's Krygyz Service, known locally as Radio Azattyk, won a BBC-sponsored award for their reports on the plight of women and children in Central Asia. Sabyr Abdymomunov won first place for "Best Radio Production" in Kyrgyzstan for his report on human rights abuses faced by women in small trades. His Radio Azattyk colleague, Kubat Chekirov, took second place for his report on Kyrgyz migrants giving birth in Moscow and leaving their children in Russian orphanges.

The competition is sponsored by the BBC World Service Trust and the European Commission. The BBC World Service Trust has partnered with five local non-governmental organizations to provide on-the-ground training for journalists covering humanitarian issues in the region. The goal of the program is to highlight the particular hardships faced by women and children in the impoverished regions of Central Asia, and to foster an environment of objective news and information to help people improve their lives.