(WASHINGTON, D.C.)
Despite the challenges of relocating a news organization that broadcasts around-the-clock to 20 countries in 28 languages, a new report says RFE/RL's move into its new Prague headquarters last year was "exceptionally smooth, efficient and cost effective."
[see a photo gallery of RFE/RL's state-of-the-art headquarters]
According to the Office of the Inspector General (OIG) at the U.S. State Department and Broadcasting Board of Governors (BBG), "Close coordination and communication between the [State Department], RFE/RL, and the contractor...resulted in a striking building that is very efficiently configured."
"It is essential for technological innovation to stay one step ahead of today's authoritarians.
RFE/RL's new broadcast center accommodates RFE/RL's 500 Prague-based employees and is located in Hagibor, ten minutes from the city center. The five-story, 236,000 sq/ft building features the latest broadcast infrastructure and multimedia technology and adheres to the highest standards in energy-efficiency and security.
"We are grateful to the BBG, the Czech people, and U.S. officials who supported our efforts to build a headquarters that is equipped for the challenges of 21st century broadcasting," said RFE/RL President Jeffrey Gedmin. "It is essential for technological innovation to stay one step ahead of today's authoritarians who deny accurate and fair-minded news to the millions of people who rely on us for uncensored information."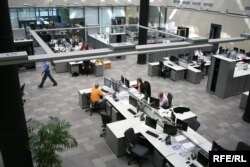 Czech Republic -- RFE/RL Hagibor Central Newsroom at work 2, Apr2009
The OIG singled out, among other things, the importance senior RFE/RL management placed on communicating with employees during the disruptive move.
"Many employees felt an initial hesitancy towards the move and the new building, but as they moved in and got settled, it gave way to mostly enthusiastic acceptance due primarily to the consistent flow of communication throughout the project," according to the report.
RFE/RL's previous home in Prague, the former Czechoslovakian communist parliament building, has been turned over to the National Museum of the Czech Republic.
About RFE/RL
Radio Free Europe/Radio Liberty (RFE/RL) is an independent, international news and broadcast organization whose programs - radio, Internet and television - reach influential audiences in 20 countries such as Russia, Iran, Iraq, Afghanistan and the republics of Central Asia. RFE/RL is funded by the U.S. Congress through the Broadcasting Board of Governors (BBG).