In the past year, 88 journalists around the world lost their lives on the job. Many of them were working in high-risk areas like Mexico, Iraq, Afghanistan, and the Philippines. As the world marks
World Press Freedom Day
today, Christiane Amanpour presided over a ceremony at the Newseum in Washington, D.C. to honor her fallen colleagues.
"We must shine a light in the darkest corners of the world," she said. "Without these courageous journalists, some of the biggest catastrophes of the world would never have been told."
We have to report without fear.
The Newseum features the names of more than 2,000 journalists killed in the line of duty over the past 172 years on a glass wall. This year, for the first time, a blogger was added to the memorial. Omidreza Mirsayafi, a 28 year-old blogger from Iran, died in Evin prison after being charged with insulting Iran's leaders.
Amanpour said she began noticing that journalists were targets in war zones while she covered the Bosnian War. Despite the growing risks, however, she urged journalists to continue reporting from the scene rather than relying on new media platforms and aggregate news services.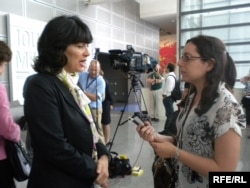 Christiane Amanpour is interviewed by RFE/RL's Ladan Nekoomaram at the Newseum in Washington D.C., May 3, 2010.
"It's almost unimaginable to think what our world would be like if these journalists - out of their deep belief in what they're doing - simply did not go out to cover the events of the day," she said.
According to Frank Smyth from the Committee to Protect Journalists (CPJ), more reporters have been murdered deliberately in the past year than ever before. He said it has become easy in some countries to silence dissenters without fear of repercussion.
In an interview with RFE/RL, Amanpour said, "It shows that this dangerous trend continues and once you're out there putting a stake down for truth, there are people who don't want to hear it."
"And whether you're a blogger, camera person, or reporter, this is becoming an increasingly dangerous profession. But that doesn't mean we shouldn't keep doing it. We have to report without fear."
To see the list of journalists on display at the memorial,
visit the Newseum's site
.
--Ladan Nekoomaram