Fresh mozzarella was just one of the highlights mentioned from a
Colgate University
student who visited
RFE/RL's new headquarters
in Prague to spend
"A Day With RFE/RL"
, as part of a new initiative which offers visitors a rare peek behind the scenes at RFE/RL.
The students, with their professor
Dr. Barry Shain
, had a day devoted to "hands on" journalism at RFE/RL. The program, tailored to the students' political science studies, included a tour of RFE/RL headquarters, central newsroom and broadcast studios; a master class with
Irina Lagunina
from RFE/RL's
Russia Service
on the challenges of covering democracy and human rights issues; and a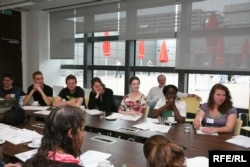 Students discuss youth involvement in politics.
discussion with
Akbar Ayazi
, RFE/RL's Associate Director of Broadcasting, who oversees programming in
Afghanistan
,
Iran
,
Pakistan
, and
Iraq
.
The group attended the editorial meeting which student Kathryn Esteves especially enjoyed because "it illustrated the steps taken to develop story ideas." Her classmate, Mary Beth Spencer, found "the opportunity to sit in on the editorial meeting very informative and cool -- it was nice to see the organization at work."
Participants in
"A Day With RFE/RL
" are able to catch a behind-the-scenes glimpse into RFE/RL's broadcast countries, which include challenging reporting
The opportunity to sit in on the editorial meeting was very informative and cool.
environments such as Afghanistan, Iran, Pakistan, and Russia. The program includes Q&A sessions with our international journalists on a wide range of issues, tailored to fit the interests of the group. As one student from Colgate wrote in his evaluation, "I learned a lot about Russia and it was very, very nice to learn about current events there and new development that you wouldn't see in a textbook."
"A Day With RFE/RL"
is available to student and professional groups in the fields of media, communication, radio/TV production, political science, and international relations. We offer group visits in English, Czech, and Russian. The program is free of charge and lunch includes, but is not limited to, fresh mozzarella cheese on bagel sandwiches. In addition to Colgate University, the College of International & Public Relations in Prague, Masaryk University in Brno (CZ), Palackeho University in Olomouc (CZ), and the University of New York in Prague have taken part in
"A Day With RFE/RL"
- to
glowing reviews
.
To book a visit with RFE/RL or for more information about the program, please contact Larisa Balanovskaya on +420 221 123 325 or via e-mail:
balanovskayal@rferl.org
.
--K. Bjorklund