"Thank Radio Free Europe And The Holy Father"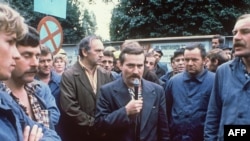 Before his recent
interview
with RFE/RL, U.S. Vice President Joe Biden shared a story about Radio Free Europe's (RFE) role in the fall of communism in Eastern Europe. In early 1991, Biden, then-Chairman of the Senate Foreign Relations Committee, welcomed Polish President
Lech Walesa
to Washington, D.C. As the visit began, Biden learned exactly how crucial RFE had been to Eastern Europe's democratic movement.
Walesa, a trade unionist, had just been elected the first president of Poland in December, and was in Washington for his first visit as head of a newly free European republic. As Biden tells it, "I was on the phone and not prepared for him (Walesa) to come in the room. He walked over to me, put his hands on my shoulder and said, 'Thank you, thank you.'" To which Biden replied, "No, no - thank you, thank Solidarity." "No," Walesa said, "Thank Radio Free Europe and the Holy Father."
-- Zach Peterson