Dragan Štavljanin
, a broadcaster with RFE/RL's
Balkan Service
, is receiving critical acclaim for his new book
"Cold Peace: Caucasus and Kosovo"
, published by RFE/RL's
Radio Slobodna Evropa.
The book is drawing enormous attention in the region with dozens of interviews, reviews, and presentations in Bosnia, Serbia and Montenegro. Neven Kazazovic, one of the region's leading military and security experts, applauded it in Sarajevo: "It's a brilliant text, kind of an event in itself. There are just a few books of this quality and they can be counted on the fingers of one hand."
Check out this short video to see the recognition Dragan gained on his book tour in the Balkans:
Two leading newspapers,
Serbia's "Today"
and
Montenegro's "Victory"
, ran extensive excerpts from the book which examines the motivation behind the Russian intervention in Georgia, its recognition of South Ossetia and Abkhazia as independent states, and the ramifications of those actions in international relations. It explains the background to the so-called frozen conflicts, their significance for regional and international stability, and identifies possible scenarios for the future: is a new cold war looming?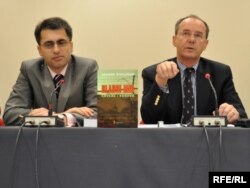 Dragan and Nenad Pejic discuss the book in Sarajevo.
The book sheds light on the international context in which the war in Georgia occurred and draws parallels between Kosovo and the Caucasus, such as whether Kosovo's independence constitutes a precedent under international law or a unique case. Finally, the book focuses on the use of energy as a political tool.
When asked about the experience of writing such an extensive book on a subject while it was still occurring on an international stage, Dragan recalled, "I was in the situation without having any historical distance because I wrote about current events and processes -- even though they were still unfolding while I wrote the book. So, I had to update certain parts several times because of pending events and processes which were very unpredictable. I was also under time pressure to complete the book as soon as possible because the prospect of a new Russian intervention in Georgia in the summer of 2009 loomed."
Cedomir Cupic, a professor of sociology and anthropology at Belgrade University commended Dragan's work: "This book is extremely important for us because there is material not researched and studied before."
Dragan joined RFE/RL in 1994 as a correspondent in Belgrade, later serving as Chief Editor of RFE/RL's Serbia and Montenegro Program. Prior to joining RFE/RL, he worked for several radio and TV stations in Serbia and prominent Serbian newspapers. He also wrote for the Prague based journal "Transitions". Dragan has interviewed numerous international politicians and experts on Balkan issues and provided analysis on the possible wider effects of Kosovar Independence. This is his first book.
-- K. Bjorklund