PRAGUE (RFE/RL) -- Peter Vail, a longtime pillar of RFE/RL's Russian Service, died late on December 7 in Prague following a long illness. He was 60 years old.
A distinguished author and journalist, Vail worked for more than 20 years in RFE/RL's Russian Service.
He is remembered by his colleagues not only as a seminal figure in contemporary Russian literature but also as a vibrant and kind-hearted man.
Andrei Shary, a veteran RFE/RL broadcaster, knew him well.
"What always struck me, and positively surprised me, in Peter was his feeling of adequacy. I don't know anyone else as close to life's realities and to one's own idea of dignity and honesty," Shary says. "I think this extended to literature; maybe this is one of the reasons why Peter's texts appear so simple and so close to life."
Peter Vail was born in 1949 in Riga, the capital of what is now Latvia. He graduated from the Moscow Polygraphics Institute.
In 1977, he emigrated to the United States, where he contributed to different Russian-language publications.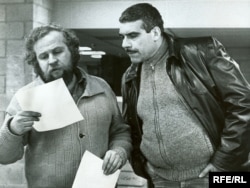 Peter Vail and Sergei Dovlatov working in New York in 1981
For over a decade, he worked closely with prominent exiled writer Sergei Dovlatov, who became his close friend.
In the mid-1980s, Vail began working for RFE/RL's New York office.
Vail proved a talented reporter. In the spring of 1995, he traveled to Chechnya to report on Russia's first war against Chechen separatist rebels.
That same year, Vail joined RFE/RL's new headquarters in the Czech capital of Prague, where he served as managing editor before becoming ill last year.
Russian Service broadcaster Ivan Tolstoi said Vail became one of RFE/RL's signature voices.
"Peter produced not only information programs over the years, such as 'Liberty Live,' but he started with a program titled 'Over The Barriers,' he had his 'USA Today' program, he had his own series called 'Heroes Of Our Time,' and he participated many, many times in programs run by his colleagues, always with pithy, lapidary, incredibly accurate, witty, pungent remarks," Tolstoi says.
"With Peter's participation, the problem [being discussed] always became more transparent."
In September 2009, RFE/RL founded the Free Russian Journalism grant to mark his 60th birthday and honor his outstanding contribution to the radios.
Some of Peter Vail's most famous works include "Russian Cuisine in Exile" (1987), "Genius Loci" (1999), "A Map of the Homeland" (2003), and "Poems About Me" (2006).
Vail leaves behind a wife, Elya.