July's winner for best multimedia piece in RFE's internal "Story Of The Month" competition was a
Russian Service
report that uncovered a disturbing pattern of
suicides among Russian children
.
RFE's Claire Bigg, Anastasia Kirilenko, and Alexander Kulygin started looking into the topic after the death of ten year-old Sayid Fekgretdinov.
"We were horrified to discover how frequently children are committing suicide in Russia," says Bigg, who has been covering Russia for five years. "We had no idea that what seemed like an isolated and horrific tragedy would turn out to be part of a larger trend."
The Russian press is 'more accustomed to writing about Putin, politics, and issus other than the ills of society.
The
article and accompanying video
paint a moving picture of the suffering of parents and the lackluster effort by the Russian government to investigate the problem. Official statistics report just a few hundred childhood suicides in 2009, but psychologists told RFE that the number could be as high as 3,000. Bigg says the discrepancy is likely explained by the fact that suicides of children under age 14 are deemed classified.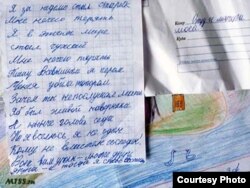 Russia-- Said Fehretdinov's suicide note, undated
"I found it very shocking that some of the people we talked to just sort of shrugged their shoulders and said, 'It's sad, but it happens,'" says Bigg. "Local media does periodically report on such incidents, but with little insight as to their causes."
Kirilenko says the Russian press is "more accustomed to writing about Putin, politics, and issues other than the ills of society."
"When I was a ten-year old in Russia, a boy in my class leapt to his death from the eight floor of my school," she says. "It was shocking. In this article, I wanted people to be aware of the problem and understand that even children can suffer from severe depression. They should always know they have an outlet for their feelings or someone to talk to."
There is no easy explanation for the high suicide rate. But Bigg and Kirilenko agree that part of the problem is the absence of institutional assistance. With a small number of after-school programs, few social outlets, and limited access to psychological counseling, Russian youth find themselves increasingly isolated from the world around them.
--Will Storey