Anonymous in Crimea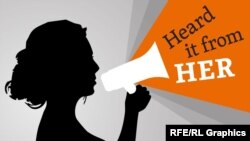 Each month we'll speak with a woman in media from our broadcasting region with a story to tell.
In our first episode of Heard It From Her, I spoke with Olexandra Melnikova (pseudonym), a Crimean Tatar journalist and contributor to RFE/RL Ukrainian Service's Crimea.Realities project to bring independent news and information to people in Crimea.
In the latest crackdown against independent journalists in the Russian-occupied peninsula of Crimea, the Prosecutor-General's Office announced April 19 that one of Melnikova's colleagues, a journalist who has contributed to Crimea.Realities, was under investigation for alleged "calls for undermining Russian territorial integrity via mass media," for publicly opposing the occupation. Forcible searches were conducted in the homes of several local journalists and their computers were confiscated. The Prosecutor General has called for the closure of Crimea.Realities.
The Russian Justice Ministry suspended the Crimean Tatars' highest ruling body due to what it called "extremist activities" April 18. International rights groups argue the decision to shut down the activities of the Mejlis, the self-governing Crimean Tatar body legalized by the Ukrainian government in 1999, is another act of repression against the minority group.
In this episode Melnikova discusses what the past two years have been like for journalists and ethnic minorities in Crimea since the annexation by Russia in March 2014.
--Emily Thompson
About This Podcast
Heard It From Her is a conversation with a woman in media with a story to tell. Each month we'll speak with a journalist from RFE/RL or other independent media in our broadcast region to talk about her reporting, the issues she confronts, and the political, societal, and cultural context in which she works. For more on women in media, follow Lady Liberty on Facebook and Twitter.