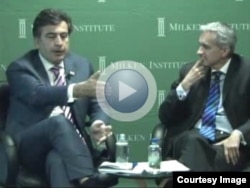 RFE/RL President Jeffrey Gedmin interviews Georgian President Mikheil Saakashvili at the Milken Institute Global Conference (April 27, 2010). Click the image above to play the video clip.
RFE/RL President Jeffrey Gedmin interviewed Georgian President Mikheil Saakashvili about the business climate in Georgia in a forum titled
"Poverty Is Not Destiny: A Conversation With Mikheil Saakashvili, President of Georgia"
. The event was part of the
Milken Institute's Global Conference 2010
, an annual international conference of business, political, and intellectual leaders in Los Angeles.
The discussion explored Georgia's ongoing business and political reforms which, according to recent rankings from the World Bank, have succeeded in creating a far more business and investment-friendly environment in the country. (
watch the discussion
)