Rights Group Suggests New Approaches for Russia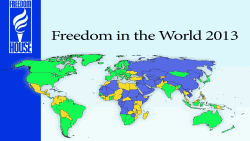 "
As the administration of President Barack Obama prepares for various foreign policy challenges in its second term, a new approach to dealing with Vladimir Putin's Russia should be on the agenda. Since his formal return to the presidency in May of last year, Putin has overseen the worst deterioration in Russia's democracy and human rights situation since the collapse of the Soviet Union and is attempting to reestablish a fear of
dissent in society. The Russian government's malign influence also extends beyond the country's borders, as it has propped up authoritarian systems ranging from that of Belarusian dictator Alyaksandr Lukashenka to the murderous Syrian regime of Bashar al-Assad
."
The full report is
here
.