Today marks five years since the assassination of Elmar Huseynov, Azerbaijani editor of the independent weekly magazine,
Monitor
. Despite international pressure to resolve the case, no one has yet been brought to justice.
"What strikes us five years later is that no one has been indicted so far and according to our knowledge no criminal case was opened," said Elsa Vidal, spokesperson for Europe and Eurasia for the Paris-based media watchdog, Reporters without Borders (RSF). "So the case is still pending and it's quite shocking given all the statements and promises made by the government and officials at the time of the killing," she told RFE/RL's Azerbaijani Service. Her organization released an investigation
report
about Huseynov's death right after his assassination.
Vidal worries that time works against the investigation.
"We are quite disappointed of course and most willing to see some progress in this case. But as time passes by, it's less and less likely that the killer will be identified and arrested in the end," Vidal added.
Rushaniyye Huseynova, the slain journalist's wife who was granted political asylum in Norway after her husband's death, has recently petitioned the European Court of Human Rights over her husband's death. She accuses the Azerbaijani government of inaction, arguing that law enforcement bodies have been reluctant to bring the killers before a judge.
The suspects in the murder are two Georgian citizens of Azerbaijani origin whom Azerbaijani authorities have failed to bring to justice. Baku puts the blame on Tbilisi but Georgia claims that no formal request has been filed to take legal action against the suspects.
Elmar Huseynov was shot dead by an unknown gunman in front of his home in Baku on March 2nd 2005. International rights groups have linked the murder to his journalistic activities. Huseynov frequently published criticism of the government and investigated cases of corruption.
Part 2: Eynulla Fatullayev
Eynulla Fatullayev, an Azerbaijani editor and friend of Elmar Huseynov who launched a private investigation into the murder of the assassinated journalist, is himself in jail today fearing for his life.
Two years ago on the second anniversary of Huseynov's murder, Fatullayev wrote a piece in which he accused Azerbaijani authorities of ignoring the evidence in the case and deliberately delaying the investigation. In the article, published in
Realny Azerbaijan
and headlined "Lead and Roses," he alleged that his friend's death had been ordered by high-ranking Azerbaijani officials.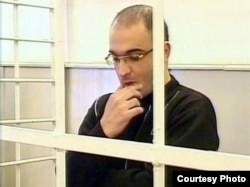 Azerbaijan – Journalist Eynulla Fatullayev in court, Baku, 30Oct2007
Within a few months after the publication, Fatullayev was charged with defamation, terrorism, tax evasion and incitement to ethnic hatred. Found guilty, he was sentenced to eight years in jail. International human rights and
advocacy
groups have characterized the charges as politically motivated and called upon Azerbaijani authorities to release the journalist. The Committee to Protect Journalists (CPJ) honored Fatullayev's courage and independence with an
International Press Freedom Award
in September last year.
Recently, new charges related to drugs possession, have been brought against Fatullayev who now faces another two years of jail time. Claiming innocence, the journalist has appealed to international organizations for help and said he fears he might be killed.
Again, RSF's Elsa Vidal: "The situation is quite worrying. Obviously, there is a will to put high pressure on Eynulla Fatullayev. He was condemned sentenced prison time and now is under another accusation which we believe is false. He's not a drug trafficker and that is for sure. He was targeted with a new campaign against him," she said.
"There is a need to protect Eynulla Fatullayev and we have to be very clear to express our concern for him to the Azerbaijani authorities so that they can do what they can to protect him. It won't be bearable if another journalist gets killed in Azerbaijan," she said.
Written by Anna Zamejc and RFE/RL's Azerbaijani Service
.