OSCE Criticizes Belarus's Suppression of Independent Journalists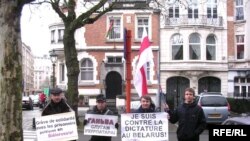 The United States has noted with concern several acts of intimidation against political activists and independent journalists in Belarus, including incidents involving RFE/RL correspondents. 'After some notable improvements in late 2008, we regret that in the period since there has been a litany of continuing violations of OSCE commitments,' a recent statement of the US mission to the OSCE's Permanent Council reads.
The original statement is
here
.