A review of incidents perpetrated against RFE/RL journalists in 2009 reveals more harassment but fewer high-profile cases involving individuals than the previous year. (See
here
and
here
.) At year's end, we report 16 incidents involving detentions, threats or physical assaults against our journalists in connection with their professional activities. We counted nine cases in 2008. In addition, RFE/RL language services remained subject to broader institutional efforts aimed at undermining their capacity to reach their audience and deliver timely, uncensored news.
Azerbaijan and Belarus were the most dangerous of those countries in our broadcast region where we have bureaus, a finding that, excepting
Russia
, aligns RFE's experience with broader surveys of
media freedom
. Reporters working for RFE/RL's Belarusian service were beaten or detained in connection with their work in three separate incidents and suffered vandalism and violence in two more. Because of quotas limiting the number of journalists a media organization may accredit, many of the service's contributors work unofficially, adding to the hazards of the job.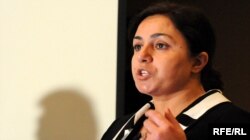 RFE/RL journalist Malahat Nasibova speaks in Bergen, Norway, after receiving the 2009 Rafto Prize for human rights reporting.
Azerbaijani correspondents Gulnar Kazimiova, Gulnar Ragifgizi,
Malahat Nasibova
and Ilgar Nasibov were threatened, beaten, interrogated or detained on four occasions. On January 1st, in a broad strike against international broadcasters that was criticized by
watchdog
groups as a step backward for media freedom, the government barred RFE/RL programs, and those of the BBC and VOA, from airing on local FM.
Satenik Kaghvantsian and Karine Simonian, journalists with RFE/RL's Armenia service, suffered attacks during a period this summer that saw alarming levels of
violence
directed against the independent press.
In Central Asia, RFE was subject to individual attacks on our journalists and institutional blocks on our operations.
Ermek Boltay
, on-line editor for RFE/RL's Kazakh service, was brutally beaten in January. The service came under pressure later in the year for publishing materials
banned
by the regime. We recorded no individual incidents in Kyrgyzstan, but a decision by the country's
state broadcaster
to drop RFE/RL radio and television programs from its national network in late 2008 remained in force for the year. Abdumumin Sherkhonov, a freelancer with RFE/RL's Tajik service, was threatened by a group of men and beaten early in the year.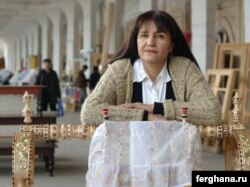 Umida Akhmedova , an Uzbek photojournalist who was charged with slander for photos she took depicting rural village life.
In Turkmenistan, ranked between Iran and North Korea in
Reporters Without Borders
' 2009 index of press freedom, the government has repeatedly rejected RFE/RL's efforts to accredit its correspondents, as a result of which they operate without offficial status and face enormous risks. During the year, they were subject to house arrest, travel restrictions and threats, and their family members suffered harassment and discrimination.
In Uzbekistan, a country that
Freedom House
groups with Turkmenistan, North Korea and Burma as the world's most repressive regimes, contributing to the Uzbek service is also dangerous. Threats and intimidation drove one correspondent to leave his home and relocate in fear for his safety. In late December,
Umida Akhmedova
, an Uzbek photojournalist who has contributed to the Uzbek service, was charged with slander and insult for photos she took depicting rural village life.
Solijon Abdurakhmanov
, who contributed to RFE's Uzbek service from the country's remote region of Karakalpakstan, remains in prison after being jailed in 2008 on charges that human rights groups allege to be politically motivated.
Against a backdrop of persistent
brutality
directed against journalists, RFE/RL's Russian service recorded incidents of harassment during the year but no violent attacks. However, the service's ability to reach its audience continued to be thwarted in 2009 by the dwindling number of affiliates in the Federation carrying RFE/RL broadcasts, down to single digits from almost 30 five years ago. In November, in the first verbal attack of its kind, Chechnya's main state-sponsored tv channel accused our Chechen service of
espionage
.
RFE/RL journalists remain at acute risk in Afghanistan and
Iraq
. In the former, they have received all manner of threats from all sides of the conflict. While in the latter our correspondents are not targets, they contend with violence as a function of doing their jobs.
Finally, Radio Farda, RFE/RL's Persian language service, which broadcasts to Iran from Prague, has no staff on the ground that is directly vulnerable to attacks; however, members report harassment, intimidation and coercion among their contacts and families in Iran as a consequence of their association with Farda.