In two cases over the last 10 days, journalists in Azerbaijan who wrote about or were active in anti-government protests were abducted for several hours and warned to stop publishing criticism of the authorities, RFE's Azerbaijani service reports.
Ramin Deko, a journalist for the opposition "Azadliq" newspaper and a participant in a protest on April 2, was forced into a car by three persons in civilian clothes and taken to Mashtaga, a small village outside Baku, where he was detained for six hours on April 3. He was not hurt, but said he was told to "be smart" and to write for the government, rather than opposition, press.
Deko reported on the incident the next day, only to be beaten by two people who berated him for not following the previous day's warning. As he ran away, the attackers shouted after him that "they will get back" to him, Deko told RFE.
Deko has been unable to identify those involved in the incident, but believes they were associated with the government.
In a similar case reported last week and condemned by international rights monitors, Seymur Haziyev, a youth activist and columnist for the same newspaper, was abducted in a village near Baku as he was returning home from work just after midnight on March 26.
Haziyev linked the assault to articles he has published in "Azadliq" that are critical of the government, and to his ties with youth activists. He said he has been threatened and beaten several times in recent years because of his reports criticizing President Ilham Aliyev's domestic and foreign policies.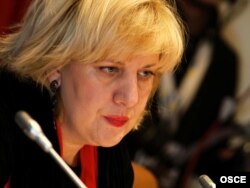 Dunja Mijatovic, OSCE Representative on Freedom of the Media, in Astana, 26 November 2010. (OSCE/Vladimir Trofimchuk)
Dunja Mijatovic, the media freedom representative of the Organization for Security and Cooperation in Europe (OSCE), called the attack on Seymur Haziyev "inadmissible." In her statement,
Mijatovic
urged public condemnation of such attacks and prosecution by Azerbaijani authorities of those responsible.
Mijatovic placed the attack in the context of other cases of violence against journalists in Azerbaijan that have not been prosecuted, including the 2005 murder of newspaper editor
Elmar Huseynov
.
Azerbaijan's Interior Ministry promised to investigate Haziyev's case, but has issued no comment on Deko's subsequent abduction.
Police detained almost 200 people during
protests
on April 2, herding them into buses.
Criticizing the authorities' conduct, Ambassador Bilge Cankorel, head of the OSCE's Baku office said, "The overall detention of 174 people during and prior to a protest drawing less than 1,000 people is a big number."
"Azadliq" editors told RFE that on the day of the protest hackers had placed anti-opposition slogans and pictures depicting opposition leaders as homosexuals on the newspaper's website.