RFE/RL's Radio Free Iraq
(RFI) was recently recognized for their reporting by several Iraqi government ministries and institutions, including the Baghdad Provincial Council, Baghdad University's School of Information, the Iraqi Ministry of Culture, and the Independent High Election Commission.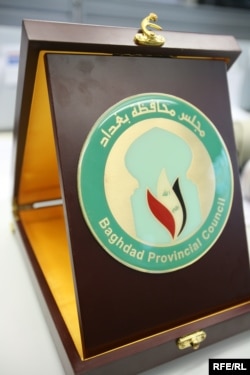 A plaque given to Radio Free Iraq by the Baghdad Provincial Council for their coverage of issues in the province.
On June 19, RFI was presented with a plaque and certificate from the Baghdad Provincial Council for its coverage of issues related to Baghdad province during the past year. The council's Media Relations Committee presented Radio Free Iraq director Sergei Danilochkin with the award for the service's "
impartial, professional, and objective
coverage."
In early May, RFI was recognized by the Iraqi Ministry of Culture's Cinema and Theater Department for its coverage of the Iraqi national cinema and theater industry, particularly the stories by RFI correspondent Haider Rashid.
The Department of Radio and Television Journalism at Baghdad University awarded Radio Free Iraq with a "Certificate of Merit" during their annual Radio and Television Works Festival. The certificate recognized RFI for their "outstanding contribution" to Iraqi radio journalism, and offered "sincere thanks, appreciation and gratitude, wishing you more brilliance and creativity to serve our new Iraq." The certificate was presented by Dr. Raad Jassim Al Kaabi, head of the Radio and Television Journalism department, and Dr. Abdel Salam Ahmed Samer, Dean of Baghdad University's Faculty of Information.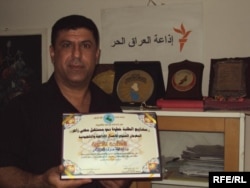 Baghdad bureau chief Laith Ahmad with a certificate granted to RFI by the Faculty of Information at Baghdad University.
Iraq's Independent High Election Commission (IHEC) presented RFI with a plaque in May for its "outstanding coverage" of the March 2010 parliamentary elections and election campaign, particularly the contributions of RFI Baghdad bureau chief Laith Ahmad. The service was also recognized by IHEC last year for its exceptional coverage of Iraq's 2009 provincial elections.