RFE/RL's Balkan Service
recently won two prestigious awards for their work from
The European Movement In Bosnia
and
The Croatian Journalists' Association
, two NGOs based in Bosnia and Croatia, respectively.
The European Movement in Bosnia presented RFE/RL Sarajevo bureau chief Milenko Vockic with an award for RFE/RL's contribution to the development of democracy and "affirmation of European values" in Bosnia over the past decade.
RFE/RL was presented with two plaques -- one for contributing to democracy and media freedom, and another for promoting European values and supporting EU integration -- at a ceremony marking The European Movement in Bosnia's annual Europe Day celebration, which was held in the northern Bosnian city of Bihac on May 5, 2010.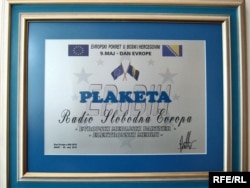 Bosnia - Herzegovina -- A plaque given to RFE/RLs Balkan Service from The European Movement In Bosnia 05May2010
The European Movement in Bosnia has been celebrating Europe Day since 2005, and has been formally recognizing various groups' contributions to democratic development and European integration since 2007.
Previous award recipients have included Ollie Rehn, Miroslav Lajcek, Christian Schwartz-Schilling, movie director Jasmila Zbanic, and the Bosnian national soccer team coach Miroslav Ciro Blazevic. This year's ceremony was attended by numerous Bosnian dignitaries, ambassadors from fifteen nations, and other members of diplomatic missions in Bosnia.
In Croatia, former RFE/RL correspondent Milan Gavrovic was given a lifetime achievement award by the Croatian Journalists' Association, which is celebrating its 100th anniversary this year. Gavrovic is best remembered for his work as an RFE/RL economic analyst from 1993 to 2003, when RFE/RL's Croatian Service was closed.
"Without [the free flow of] information there is no democracy. The ideal conditions for every market, including the political market, are perfect competition and perfect information [knowledge]. Without these things monopolies develop, and that's what politicians want!" Gavrovic remarked upon accepting his award.