Radio Free Afghanistan's
Dawa Khan Meenapal and Ashyrkuli Bayriev of RFE/RL's
Turkmen Service
have been honored with the distinguished 2010 David Burke Journalism Award from the Broadcasting Board of Governors (BBG).
Dawa Khan Meenapal's David Burke Award
Named after former BBG Chairman David Burke, the award is given annually to journalists from the
BBG's broadcasting services
who demonstrate courage, integrity and originality in reporting, and the dedication to the advancement of freedom and democracy through free exchange of ideas.
Radio Free Afghanistan correspondent Dawa Khan Meenapal reports from Kandahar, one of the most dangerous cities in the world. Meenapal was
kidnapped and released by the Taliban in 2008
, but continues to report from Afghanistan.
Meenapal reacted to the his receiving the Burke Award with humility and gratitude, telling his colleagues, "I am deeply honored and pleased to recivive this award. I want to thank RFE/RL for their continued support of my work. The environment is very difficult, however I am committed to continue my important work."
RFE/RL's other Burke Award winner, Turkmen Service correspondent Ashyrkuli Bayriev, reports from Turkmenistan under constant threat and surveillance.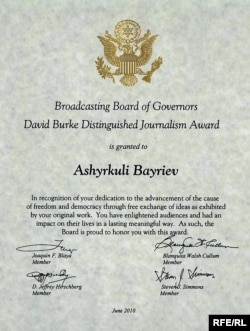 Askyrkuli Bayriev's David Burke Award
Bayriev responded to winning the award by praising his colleagues, saying, "I am very happy for the recognition of my modest work by the Broadcasting Board of Governors. I believe this award is also the recognition of the work of my colleagues in Turkmenistan who do their jobs in extreme situations."
RFE/RL President Jeff Gedmin praised the work of both Meenapal and Bayriev saying. "We are honored and proud to have such dedicated and hard-working colleagues. It's important to remember that the conditions in which these journalists work and the lives that their audiences live in can be extremely dangerous. Keeping this perspective will help us remember how important and necessary their work is."
For Additional information on the other 2010 David Burke award winners see the
official BBG Press Release
.
Check out RFE/RL's
Afghan
and
Turkmen
Services on the web.
-- Taylor Smoot