Stalinist Era Novella An Overlooked Classic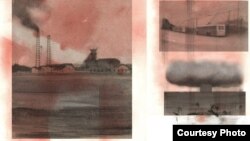 A novella written by a former RFE/RL Czechoslovak Service culture editor is now available in English, and gaining overdue recognition as a key work in the Czech literary cannon.
The scarred terrain of postwar northern Bohemia is the setting of Midway Upon The Journey Of Our Life, a novella by former RFE/RL Czechoslovak Service Culture Editor Josef Jedlicka (1927-1990) that was published in English for the first time earlier this year.
Written between 1954 and 1957 and never published uncensored and in full until after the fall of communism, most of the non-linear narrative takes place in and around the Collective House, a colossal apartment block for 1,500 people built by the Czechoslovak communist regime in the northern Bohemian city of Litvinov. It was envisioned as a paragon of socialist communal living in which cooking, cleaning, and child-rearing were to be shared by the employees of the nearby Stalin chemical plant. But the characters who populate Jedlicka's Collective House are suspicious of one another, envious, and violent. Human nature fails to live up to the collectivist ideal, and its darker side is more pronounced for trying.
The landscape is as much a victim of the unrelenting push toward progress as are the characters. Jedlicka describes the destruction of the environment wrought by the zealous construction brigades so soon after the war as profane.
"Long before they took us prisoner in these model family homes, there was nothing beyond this but fallow land, pitted with bomb craters…" he writes, later continuing "The dead, who perished in inadequate shelters, were covered over the next day with a combination of rubble and earth, and the rebuilding of the monstrous chemical facilities began atop the ruins, a frenzied tangle of assemblages and conduits, almost as if to represent the dying's final spasms."
These brutal scenes are described throughout the novella in a lyrical, poetic style that is at once beautiful and disorienting. The story is semi-autobiographical (Jedlicka lived in northern Bohemia when he wrote the novella, having moved there from Prague after he was expelled from university for leaving the Communist Party), and the narrator regularly diverts from the story to express remorse at his naivety as a young, idealistic communist. The story jumps back and forth between the narrator's student days in Prague before the February 1948 coup, when he and his comrades were full of optimism and "dreamed up our destiny in a self-destructive messianic dream of a worker's tomorrow," and the bleak reality he lives after that dream's realization.
The motif is typical of other Czech texts of disillusionment from authors like Milan Kundera who are better known to international readers, but Jedlicka was among the first in the genre.
"Since the fall of Communism and Jedlicka's death, Midway Upon The Journey Of Our Life has belatedly come to be recognized in the Czech Republic as one of the most original and important works in Czech literature since 1945," wrote University of Bristol Czech literature professor Rajendra Chitnis in the book's afterward.
While this work was late to be published and recognized, Jedlicka was by no means obscure to Czech audiences. After the Soviet occupation of Czechoslovakia in 1968, he immigrated to West Germany, where he worked as a culture editor and commentator for RFE/RL's Czechoslovak Service. In his radio broadcasts he read essays on literature and reviewed exile journals and samizdat texts smuggled out of Czechoslovakia. Established at the beginning of the Cold War to transmit uncensored news and information behind the Iron Curtain, Radio Free Europe, as it was then known, also became a platform for artistic voices like Jedlicka's that were suppressed inside their countries.
"There are not many works in the canon of Czech literature from the 1950s that manage to portray the period with such authenticity and credibility," Czech Radio literary critic and reviewer Milena Maresova told RFE/RL. "He doesn't blame, he doesn't moralize, and he doesn't judge. Quite the opposite…Jedlicka managed to capture the psychology and emotions of the time, everything that was repressed by a deaf and mute ideology that reduced human experience to mere slogans and political proclamations."
Midway Upon The Journey Of Our Life was translated into English by PEN Writing in Translation Award winner Alex Zucker and was published by Charles University Karolinum Press as part of its Modern Czech Classics series.
--Emily Thompson