RFE/RL's Afghan Service taps into a rich tradition of tolerance and pluralism.

The head of U.S. Central Command, General David Petraeus, said this week that the U.S. and its allies need to incorporate civilian, military, and foreign partners in a united effort in Afghanistan.

"We need a 'whole-of-governments' approach," he said at a Marine Corps University conference on counterinsurgency strategies. "That means many different governmental agencies, civilian-military partnerships, and a comprehensive approach to the problems of a counterinsurgency is the answer."



RFE/RL President Jeffrey Gedmin told the gathering that RFE/RL's Radio Free Afghanistan (known locally as Radio Azadi) is an "important and effective part of the strategy to help Afghanistan develop a political culture that is a force for moderation, education, economic development, and respect for human rights."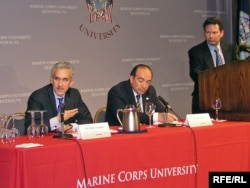 Gedmin on Afghan Panel--MCU COIN Conference
"That we're the most popular radio station in the country means that there is a constituency in Afghanistan for pluralism and tolerance. Radio Azadi is tapping into this rich tradition and finding a 'sweet spot' - a place somewhere in between the extremes of a medieval terrorist empire and a perfect Jeffersonian democracy."
Gedmin cautioned that the international community needs to be "fantastically patient" with Afghanistan.
"Look at East Germany," he said. "It's been exactly two decades since the fall of the Berlin Wall and that country is plagued by poverty, unemployment, xenophobia, and radicalism despite immense ethnic, cultural, religious, and geographical advantages. East Germany was supposed to be the simple, immediate success case of a country transitioning toward democracy."
"In Afghanistan - which is largely agrarian, tribal, culturally complex, and facing a vicious and violent insurgency - we should not have unrealistic expectations about the time it will take to develop into a stable, mature democracy."
Petraeus and Gedmin spoke at the National Press Club in Washington, DC during a one-day symposium sponsored by the Marine Corps University and Marine Corps University Foundation. The conference was arranged to explore the challenges inherent in counterinsurgency and lessons that can be applied to Afghanistan.