November 9, 2009 will mark the 20th anniversary of the fall of the Berlin Wall. For those serving in the Soviet Union's "Red" Army, the late 80's and early 90's were marked by chaos. As the Wall came down, soldiers realized they were serving in the army of a country that no longer existed. Many of their native republics had declared independence, and commanding officers were selling anything -
everything -
they could get their hands on.
Here, Kenan Aliyev, now director of RFE/RL's Azerbaijani Service, reminisces about his time in the rapidly deteriorating Soviet Army. Kenan participated in the anti-Soviet protests following the Soviet occupation of Baku in 1990, but was soon conscripted and sent to East Germany. There, he witnessed German reunification, saw the lengths to which the officers went in order to keep the conscripts on the base, and struggled with the feeling of fighting for an empire in collapse.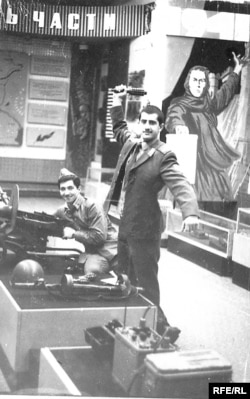 Kenan Aliyev poses with a grenade in the Naumburg museum.
Aliyev:
Suddenly, people started becoming aware of their nationalities. We weren't Soviet soldiers anymore. Azeris would stick together, Georgians would stick together, etc. You could see that the Soviet officers, mainly Russians, were bitter that they were losing Germany. We realized that we were in the army of a state that was falling apart. At this time there was a referendum in the Soviet Union, it was about 'should the Soviet Union stay together?' I helped organize a protest among the Azeris stationed in Germany. We decided to boycott the referendum because our country was occupied.
But how could we? We were in the army. We had to march to the polling station and vote. So the day of voting came, and the officers told everyone to go and vote. But we Azeris had promised each other we wouldn't vote, so we didn't go. The officers noticed this and called me into the commander's office. They said, 'We know you organized this, you know what we'll do to you.' And I said, 'excuse me, this is my constitutional right. The law says I have the right not to participate, and you're violating my constitutional right by making me go there.' They were furious. They started telling us, if you don't vote, our unit's political officer will get in trouble. And I said okay, we'll vote - of course against - but only if you give us better treatment. There was a racist approach from the officers. They'd call the Azeris, or anyone from the Caucasus, 'black asses.' So, in the end, we made them beg us. I think they never forgot that, and they never forgave me.
At the same time, officers were selling everything they can. Uniforms, gasoline...on a large scale. Soldiers on a smaller level were selling souvenirs to Germans...everything was for sale. There was a huge corruption scandal in the Soviet Army at that time.


We saw that Eastern Europe was moving away from the Soviet Union, and it opened our eyes. We saw this process was slowly coming to us. I remember my encounter with the officers, they were arguing 'no, the Soviet Union will never collapse.' But it was obvious that the empire was falling apart. You could see in the behavior of the officers. They didn't care about the Soviet symbols anymore. And for us, it was a foreign army.
It's interesting that East Germans were happy that we were leaving. I remember I met an American for the first time in the city of Meinengen next to the famous theatre. He wanted to buy some souvenirs from me, and I was happy to give it to him, but the officers said I couldn't. For Westerners, we were kind of exotic. But the East Germans, they had enough. They were just counting the days until we were gone.
October 3rd, 1990 was one of the most memorable days of my life. I was very happy for the Germans.
-- Zach Peterson & Alex Mayer