WASHINGTON, DC -- Sixty years ago, Radio Free Europe (RFE) took to
dropping balloons
into Communist-occupied Eastern Europe as one of its many creative ways of dodging the censors. These days, RFE/RL's methods of penetrating closed societies feature more high-tech tools -
proxy servers
and
client software
, for example - as authoritarian regimes do their best to prevent citizens from receiving news and information from the outside world.
From 1951 to 1956, RFE used leaflet drops from high-altitude balloons to reach isloated populations behind the Iron Curtain in Czechoslovakia, Poland, and Hungary. The
leaflets
were meant to augment RFE's radio coverage of the news; the balloons carried essays about developments in the Soviet bloc, copies of antitotalitarian literature like George Orwell's
Animal Farm
, and pamphlets calling for workers' rights.
We were confident that the free world had not forgotten us.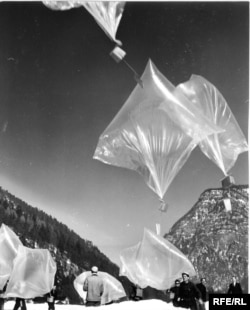 Launching balloons at the West German border.
For people who had access only to a limited supply of news and information -- regime news services, Communist publications from other countries, and scattered foreign radio broadcasts -- the moral support provided by the balloons was indispensable. A history of the organization written by former RFE/RL head Arch Puddington,
Broadcasting Freedom
, contains a telling anecdote about the balloons from a former Czech dissident:
"I was sitting with three friends in a restaurant. All of a sudden, one of them, a railroad employee, handed me something under the table. I felt some paper in my hand, which I slipped into my pocket. After a while, I went to the restroom and locked myself in. I took the paper out of my pocket...One after the other, friends disappeared into the restroom to read the leaflets [that were dropped by the RFE balloons].... They left deep impressions on our minds. We were enthusiastic and confident that the free world had not forgotten us."
Of course, Eastern Bloc regimes went to great lengths to crack down on such instances of independent thinking. Czechoslovakia sent a spy into West Germany to destroy one of the balloon launch sites (his mission ended in failure when he was caught prowling around the area). The Communist government in Prague went so far as to
deploy anti-aircraft guns and MiG fighter jets to shoot down the balloons
.
RFE/RL has been a central figure in the fight for free information in Iran.
Though RFE's methods have changed, its essential mission has not, nor has the mission of autocratic governments around the world. The cat and mouse game
continues
, this time with new tools:
satellite signals
,
web encryptions
and
firewalls
. The issue is particularly severe in Iran, where authorities have gone to great lengths to shut down the flow of information over the
protests of foreign governments and international organizations
. In order to ensure that populations in Iran and elsewhere have secure access to accurate information, RFE/RL's Persian Service, Radio Farda sends out a daily blast email to thousands of listeners with URL addresses for proxy websites (which allows Iranian Internet users to circumvent the censors). Radio Farda also broadcasts those addresses over the radio, and distributes client software such as
Freegate
and
Psiphon
, which provide permanent proxy links for internet users.
Those tools became
especially critical
last summer, when, in the wake of Iran's disputed election, proxy sites - many of them fed by RFE/RL - kept Iranians connected to websites like Facebook, Twitter, and YouTube. Traffic from RFE/RL's client software spiked, and the organization rushed to manage the increase. Since then, Iranians have used up so much of RFE/RL's bandwidth that the organization has been forced to limit its proxy access to several critical news sources and social media outlets. RFE/RL - together with human rights NGOs and Iranian activists in the diaspora - has been a central figure in the fight for free information in Iran.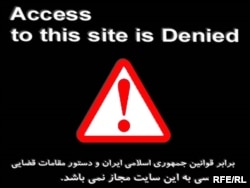 An Iranian censor's message.
Like Czech dissidents who hung their hopes on the signs carried from the free world by balloon, Iranians today have come to count on the technical and moral assistance provided from the outside, which allows them to access a far wider array of information than that which was carried by balloons in the 1950s. And, though it gets the most press, it's not just in Iran that RFE/RL's modern balloon campaign yields dividends: it makes client software like Freegate and Psiphon available throughout the RFE/RL broadcast region, where active Internet censorship in nations like Kazakhstan and Uzbekistan prevents people from getting accurate and reliable news and information.
-- Charles Dameron