Three young Afghans have been learning the ins and outs of the news business over the past few weeks with RFE/RL's Training Division, and Afghan Service, Radio Azadi, in Prague.
The men all hail from
Logar province
in eastern Afghanistan and came to Prague through a program facilitated by the Logar-based
Czech Provincial Reconstruction Team
and the
Czech Ministry of Foreign Affairs
.
The 40-day training focuses on the technical aspects of journalism -- like story structure and effective broadcasting techniques -- as well as how to maintain objectivity and balance in reporting. The idea is that the participants will return to Afghanistan to teach their colleagues what they learned at RFE/RL.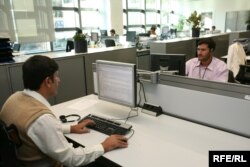 Noorullah Naweed Stanekzai (left) and Rahmatullah Afghan (right), prepare stories as part of their training program at RFE/RL.
Noorullah Naweed Stanekzai
owns his own radio station in Logar (Radio Mili Paygham) that focuses on news and features about Afghan society.
Rahmatullah Afghan
works as a reporter for the Pajhwok News Agency and
Asadullah Lodin
is a 20 year-old student at Kabul University who hopes to become a journalist after graduation.
"What I am learning here is very important for the operation of our radio station back in Logar province," said Rahmatullah.
Noorullah was also enthusiastic about the improvement his training would bring to his station's broadcasts.
"If not exactly same as Radio Azadi, then at least close to Radio Azadi in terms of quality," he said.
Asadullah said that getting a handle on the basics of radio journalism was an important part of his training at RFE/RL: "I learned the proper structure of how to write stories -- which things should be in the first paragraph and which should be in the second, third and so on. I also learned about producing audio reports, that all of the key words must be in the first sentence of the report."
It was impressive to visit RFE/RL's headquarters in Prague, Noorullah said, because of the many different services, backgrounds, and cultures that could be found in the same building.
"Everyone wants to visit Radio Azadi, so I spend most of the time here in the office talking with Radio Azadi employees," Rahmatullah added.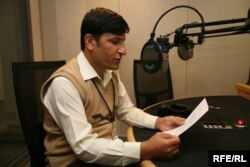 Afghan journalist Noorullah Naweed Stanekzai reads a story as part of his training program at RFE/RL's Prague headquarters.
The Afghans were also struck by the huge gap in development between Afghanistan and Europe -- a place that none of the three had visited prior to their arrival a few weeks ago. In fact, before this trip, none had traveled farther than Pakistan or Sri Lanka.
"When we first got here, walking around at night, it was such a peaceful environment - I hope that someday we can have such peace in Afghanistan as well," said Noorullah.
"What we have seen here, we want the same progress in Afghanistan," agreed Rahmatullah. "We will transfer the message of how the people got to this point here, and bring that knowledge back to Afghanistan."
--Alex Mayer and Zach Peterson