Pavel Pechacek was the director of RFE/RL's Munich-based Czechoslovak Service at the time of the Velvet Revolution. In November 1989 he was unexpectedly granted a visa for Czechoslovakia, allowing him to travel to Prague, where he reported live from the demonstrations in Wenceslas Square. We sat down to speak with him about the events 20 years ago.
---

How do you remember the days in 1989 leading up to the November demonstrations?
Pavel Pechacek
: I had traveled from Munich [where RFE/RL was headquartered until 1995] to Rome to cover the canonization of Agnes of Bohemia on November 12. More than 10,000 Czech and Slovak Catholics had traveled there from Czechoslovakia for the event.
You know, there had been an old prophecy for centuries that good things would happen to the Czech nation once Agnes would be canonized. And there was a feeling in the air that Czechs and Slovaks were losing their fear. They seemed to have built up courage to do something against the totalitarian regime.
Of course I did not predict that change was so close. But a couple of days later the Velvet Revolution began, and 10 or 12 days later Communism was over. Incredible, really.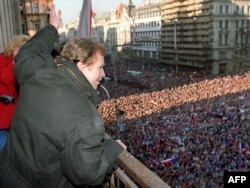 Vaclav Havel, dissident playwright and opposition leader, waves to the crowd of demonstrators in Prague's Wenceslas Square, November 1989
And then you traveled to Prague…

PP
: After I returned from Rome, I decided to apply for a visa to go to Prague. Nobody from Radio Free Europe (RFE) had ever been granted a visa before. To my great surprise, just a day after the student protests were violently broken up on November 17, I got a call from the Czech embassy that my visa was ready!
I arrived in Prague on Tuesday, November 21 and checked in at the Hotel Evropa. When the hotel staff realized who I was, they went out of their way to be helpful and supportive. "Of course we'll give you a room with a window to Wenceslas square. And hurry up, the demonstrations will begin soon!"
Why do you think you got a visa at such a critical time?
PP:
A young Czech historian recently gave me a book, written by a former high-ranking agent of the Czechoslovak security service. He writes that the authorities were of course very nervous because of the events of November 17. But they also thought that my reports could do little harm and would mostly go out to the West and other countries who got the news through agencies like Reuters and other news organizations anyway.
A fateful decision…
Frantisek Starek, a political prisoner at the time, later said that when he heard that Pavel Pechacek was reporting live from Wenceslas Square, he turned to his fellow inmates and said, "Guys, Communism is over, we'll be home for Christmas."
PP:
They underestimated the effect my reports could have in Czechoslovakia. After all, for a few days I turned out to be the only reporter who was fully and openly covering the demonstrations in the Czech language for a Czech audience. And RFE's reports could be heard all over the country and had a tremendous effect.
Frantisek Starek, a political prisoner at the time, later said that when he heard that Pavel Pechacek was reporting live from Wenceslas Square, he turned to his fellow inmates and said, "Guys, Communism is over, we'll be home for Christmas."
The Communist party started spreading rumours that I was leading the revolution from behind a computer in Wenceslas square. It was nonsense, and of course I had no computer in those days. It was just myself and two dissidents helping me with the reporting. Luckily, the authorities realized too late that they had made a terrible mistake in allowing me to enter the country!
Some people say Radio Free Europe's reports provoked the protests...
PP:
Like today, RFE had very strict editorial guidelines at the time, and we stuck to them. I told my editors very clearly: inform, inform, inform. Do not let your emotions take over, stick to the facts, the people will decide themselves what to do.
The most controversial case is of course the report about the
alleged death of Martin Šmid
. This report had a tremendous effect on the people and the dynamics of the protests, but it turned out to be false. But people like Timothy Garton Ash are wrong when he
says
that it was RFE who spread what turned out to be false news about the student's death.
I remember holding the news item back while other outlets such as Reuters and Voice of America (VOA) were already reporting it. We knew the report had come from a news agency run by Peter Uhl, a well-respected Czech dissident. But we had no second source, so I did not let the report go out. We tried to confirm the news and called hospitals and the police in Prague, but nobody wanted to really speak about it.
Later in the day I decided that we would also report on it. Then, of course, a few hours later we realized that this was wrong. Martin Šmid was alive and well.
We will probably never know what happened exactly. Nobody knows for sure whether someone was killed or disappeared during those demonstrations. But the story that turned out to be so important was wrong.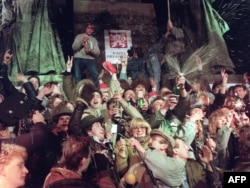 Young Czechoslovaks celebrate their newfound freedoms, December 1989
Did you see any of this coming?
PP:
I remember saying to a colleague at the VOA – where I was working for the Czechoslovak desk at the time - in 1985 or 86: "Miro, this service is running so well, I'll have nothing new to do here until my death." I didn't believe then that Communism could be over in my lifetime. On the contrary, because of events in Latin America, Nicaragua, etc, we expected Communism might spread further.
When I was hired by RFE at the beginning of 1989, change was already in the air. And in the summer of 1989 there were clear signs of increased dissident activity in the country. But nobody knew what form change might take. We feared it could be violent and bloody. As tensions increased in November, we urged our listeners to remain calm and to avoid resorting to violence in their protests. Vaclav Havel also supported this message on our programs.
The real turning point was when Czechoslovak police used severe violence against students during the November protest. This brought both the students and their parents out to the streets. They had seen that the terror was here to stay and would continue.
How long did you stay in Prague that November?
PP:
I reported for three days, from Tuesday to Thursday – November 21 to 22. On Friday the 23rd the secret police were waiting for me, expelled me from the country, and I had to leave the same day.
Then, even before I got to the border, I heard on the radio that the Communist Party presidium had resigned. So I was still on Czech soil and communism was over. It was unbelievable.
---
Pavel Pechacek served as director of RFE's Czechoslovak (and later Czech) Service from 1989 until 2001. He led the Czechoslovak section of the Voice of America from 1975 to 1989 after a previous stint with RFE as a broadcaster from 1968-1974. He is presently a senior adviser at RFE/RL.
-- Julian Knapp