Earlier this year,
we told you
about a free weekly newspaper being distributed in Baku by RFE's
Azerbaijani Service
, which has been banned from the FM airwaves for nearly two years. Now, another paper is making an impact in the Caucasus. In Georgia's breakaway regions of Abkhazia and South Ossetia, RFE is reaching people the old fashioned way – with paper and ink.
"My job, as I see it," says RFE
Georgian Service
Director David Kakabadze, "is to get people talking to each other. To show that even if you don't agree on anything, you can still have a dialogue. We try to make that dialogue happen any way we can."
Unfortunately, the aftermath of the 2008 Russia-Georgia war has made such discourse even more difficult than before. Massive infrastructural damage and aggressive Russian interference in Abkhazia and South Ossetia have led to severe restrictions on media freedom in both places.
My job, as I see it,is to get people talking to each other.
In response, RFE launched
Ekho Kavkaza
("Echo of the Caucasus") last year, a one-hour daily radio program in Russian featuring on-the-ground reports from journalists in South Ossetia and Abkhazia, as well as news and analysis from the rest of Georgia.
"The main idea of this new program is to reach as many people from the breakaway regions as possible," says Kakabadze, who oversees Ekho Kavkaza. "But after we started it, we were faced with the problem of delivery. It was not realistic to find FM partners because local media in the territories cannot really be considered free. The only way to deliver radio programs is via short-wave, which is limited. So this newspaper gives us a chance to reach people who would otherwise have no access to independent information."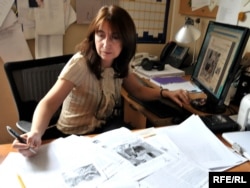 RFE's Tbilisi Bureau Chief, Marina Vashakmadze
Kakabadze credits Tbilisi bureau chief Marina Vashakmadze with the idea for the paper. "It has really been all Marina's doing," Kakabadze explains."She's done a tremendous job compiling stories for the paper and getting it out there."
Kakabadze and Vashakmadze have found an important ally in the IDP (Internally Displaced Person) camps set up after the 2008 war. "We give the paper away free of charge in the camps," Kakabadze says. "We can't get into a place like Abkhazia to distribute the paper ourselves, but the IDPs can. They have relatives on both sides of the border, and it's these interpersonal relationships that we rely on."
Although Ekho Kavkaza faced a hostile reaction at first, Kakabadze says things are changing. "Initially, many of the comments on Ekho Kavkaza's website were too vulgar to publish," he says. "But now, we post 80% of readers' feedback. Things are changing. We get as many as 50 comments on some articles. People are discussing the issues – Abkhazians, Ossetians, and Georgians are having a dialogue. This is our purpose."
- John Cleveland