Last week saw two visits to
RFE headquarters
from aspiring groups of journalists – one from each side of the Atlantic.Both visits were part of our
"A Day With RFE"
program, a one-day visitor's program for journalism and communications students.
The group from Prague's Charles University stopped by on Wednesday, meeting with audience research specialist Andrius Kuncina to discuss reporting from and about closed societies. They also met with RFE's journalism trainer Dragan Milojevic for a workshop on online multimedia techniques.
The following day saw the arrival of students from Pittsburgh, Pennsylvania's Point Park University. The group met with RFE's Central Asia expert and veteran journalist
Bruce Pannier
, attended RFE's daily editoral meeting, and capped off the day with a master class by
Akbar Ayazi
, who oversees broadcasts to Pakistan, Afghanistan, Iraq, and Iran.
Of their day at RFE, Point Park students had this to say: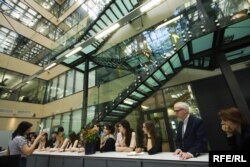 Point Park University students tour RFE's central newsroom
"So interesting! My favorite part of the trip! Very well put together and presented!"
"So amazing! It was so interesting to hear about Afghanistan from Ayazi's perspective, especially as Americans. We do not hear these types of stories. It gave me a great perspective as to what goes on in the world and why an organization like this is so important. It's a humbling experience."
"The conversation with Mr. Ayazi was more eye-opening and informative than anything I have experienced while I have been in Prague. Not only do I have a new perspective on journalism in the Middle East, I realize now how the US media tends to gloss over non-sensational stories about the region."
If you are interested in "A Day With RFE/RL", please check out our
visitor program
info page.