Iraq continues to be one of the most dangerous places for journalists – it placed 158th out of 173 in Reporters Without Borders' 2008 Press Freedom Index. The 12 journalists in Prague and 31 stringers in the country who work for RFE/RL's Radio Free Iraq (RFI) face significant challenges in delivering the news to Iraqi citizens.

In the second of a three-part series of interviews RFE/RL's Iraq service (part 1| part 3), we sat down with Radio Free Iraq (RFI) broadcaster Moyad al-Haidari to ask him about his life in Baghdad and his work for RFI. Moyad was RFI's Baghdad bureau chief from 2004-2007, when he had to leave the country after a kidnapping attempt by insurgents and threats to his family's safety. He now continues his work for Radio Free Iraq as broadcaster in RFE/RL's Prague headquarters.

Video of the interview is below, in four parts. Read the full transcript here.

Part 1: "Suddenly everything became free, no control..."
Active in the artistic and cultural scene in Iraq prior to the 2003 US-led invasion, Moyad al-Haidari survived under Saddam's regime by "isolating himself from politics." In addition to his passion for painting (as well as clothing design -- see picture at left), Moyad also "wrote many articles, many poems, and also some cultural criticism about art."
After the fall of Saddam's regime, Moyad witnessed dramatic and sudden changes in Iraqi society. "Before, people were under pressure, under control, restricted…then suddenly everything became free, no control, and in a way no feeling of responsibility." The sudden removal of Saddam's controlling influence "kind of ruined the structure of the state, ruined even the normal communication [between people], and most people didn't know how to deal with this new freedom."
It was in this realization that Moyad found his calling: "After the change of the regime, I took my responsibility as a patriot, as an Iraqi citizen." Moyad searched for a way to "find my role: how to build my country...how to help them to know how to move [forward]...how to invest the wide freedom they got after the change."
Part 2: "Work with Radio Free Iraq was really the best choice I made in my life."
The director of RFE/RL's Iraq service at the time, who Moyad had known for decades, visited Baghdad and asked Moyad to join Radio Free Iraq. "At the beginning I thought, 'Is it right to be a correspondent? How can I use this technique to serve my people, to serve my message?'" Moyad accepted the invitation -- and he never looked back. "Day by day, I discovered that the work with Radio Free Iraq was really the best choice I made in my life. It [fulfilled] my personal need to have a tool to...serve the people, trying to give them the message they need."
But working for Radio Free Iraq also presented Moyad with a new set of dangers and challenges. "I received many threats by e-mail, by telephone, and even my family was threatened that some of them will be kidnapped, killed, or harmed," Moyad explained.
Part 3: "They pushed me to enter one highway...waving their guns to stop...
"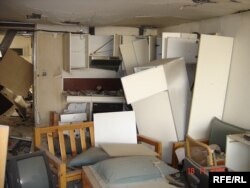 The aftermath of the car bombing which severely damaged RFE/RL's Baghdad Bureau in November 2005.
In November 2005, insurgents made good on those threats by
detonating
a car bomb outside the Al-Hamra Hotel, which housed Radio Free Iraq's Baghdad bureau office, in addition to other foreign media organizations. "There was really severe damage, but
al-hamdulillah
[praise God] there wasn't anybody there in the office at the time. It was very early in the morning, around 7:00am. When I arrived, it was still smoking, and there was some fire -- but it was okay, just damage to the building."
Journalism, Moyad explained, quickly became the most dangerous area of work in Iraq. "Two of my colleagues were killed in 2007 –
Khamail [Muhsin Khalaf]
and
Nazar [Abd al-Wahid al-Radhi]
, we lost them. The lady, Khamail, was kidnapped and after two days we found her body killed, and two months later we also lost one of my colleagues Nazar in Amarah, which is south of Baghdad." In addition, "we had another colleague, Jumana [al-Obaidi], who
was kidnapped for around two weeks
by insurgents, but she was released,
al-hamdulillah
[praise God]."
Moyad himself was the target of an attempted kidnapping by insurgents in July 2007:
"So once, after two weeks in which I hadn't been at my home, I thought it was safe, so I left the office in the afternoon. On the way, by chance I noticed in my rear-view mirror that there was a car, I remember it was a black Toyota, with three people inside...

...I drove fast, trying to escape, then I discovered there was not only one car -- there were two cars. They pushed me to enter one highway...waving their guns to stop..."

See the video below for the rest of the story about how Moyad escaped.
Part 4: "As a person of cause, I feel I have to continue."
A few days after the attempted kidnapping, RFE/RL managed to transport Moyad to the airport under armed guard, and he was flown to Amman, Jordan. "Now I have settled in Prague, joined my colleagues here, and continue my message in a different location," Moyad explained. His family, who had also received numerous threats -- including the kidnapping and murder of a friend of one of Moyad's sons who had borrowed his car -- also had to leave Iraq.
Yet despite these hardships, Moyad is as determined as ever to continue his work for Radio Free Iraq. "I remember when the explosion of the bureau building happened...some bosses in Prague called me and said, 'Moyad, shall we close the office, shall we stop for a while, it's becoming dangerous.' And I said, 'No, no, this is what the insurgents want, to stop our voice. I believe we have to continue more in concentrating on our message.'"
I asked Moyad why he still continues working for Radio Free Iraq after all he's been through. "Why do I continue? As a person of cause, I feel I have to continue. I feel this is kind of my [personal] target, and...this message is very important to the people...We use our material to fight, to give the message, to give the meaning of freedom and democracy to the people -- not to be a slave for the insurgents and the extremists. Personally, I believe in this way."
Moyad also explained that the responses the radio receives from Iraqi citizens keep them going. "We receive every day a very excellent response...to receive such recommendation from people that you are great, you tell us the truth, you are the balance...this is great. That means the world to us, that we are in the right position, and we have to continue."
-- Alex Mayer