Iraq continues to be one of the most dangerous places for journalists – it placed 158th out of 173 in Reporters Without Borders' 2008 Press Freedom Index. The 12 journalists in Prague and 31 stringers in the country who work for RFE/RL's Radio Free Iraq (RFI) face significant challenges in delivering the news to Iraqi citizens.

In the last of our three-part series of interviews profiling RFE/RL's Iraq service (part 1 | part 2), we sat down with Radio Free Iraq (RFI) director Sergei Danilochkin to ask him about RFI's challenges, successes, and overall mission.

The full transcript of the interview is here.


Highlights:
RFE/RL:
What would you say RFI's primary mission is in 2009, compared to 2003 or 2004?
Sergei Danilochkin:
Well in 2003 and 2004, Saddam's [shadow] was everywhere in Iraq. Let's be frank – people were scared. Even though he was someplace and nobody knew where he was hiding, still everyone was scared of him. Back then, the challenge was to keep delivering people the information that was previously denied to them by Saddam's regime.
The primary goal [is] to keep delivering objective, balanced, unbiased information. In Iraq, it is very important because there are so many different shades of opinion, opinions are so intolerant of one another, and there are so many news organizations that belong to political groups and deliver predominantly these groups' political agenda. It is very rare to see something that is not involved in this, that is above it, that cares to bring to the listeners as much information as possible without trying to bend this listener to one side or the other...the idea is that we are trying to present as many points of view as we can, and put them in a civilized debate. ...For us it is important that Iraqis actually talk to each other, are not scared to express opinions, and are doing it in a civilized manner.
RFE/RL:
What is Radio Free Iraq's greatest success in the recent past?
Danilochkin:
We were doing a program about [censorship], and we brought together three people for a virtual panel discussion over the phone. Fifteen minutes into this discussion people started screaming at each other, calling each other names...it turned pretty nasty. People ran out of civilized arguments. And actually the person that we expected to be the most tolerant and willing to keep conversation going [was the first] to hang up the phone. Interestingly enough, this person called us back a couple minutes later and said, 'Well, you know what, let's continue. Sorry for the outburst, I understand that this was a mistake.'
For us, I think it's like a medal when we had this. It helped the guys who participated in this debate because they actually saw what happens when you do this. They imagined themselves being caricatured if they were [having this debate in another media outlet in Iraq] and they reconsidered. They didn't arrive at the [same] conclusion, everyone remained at his or her own views, but the idea was that people understood how important it is to keep this dialogue running.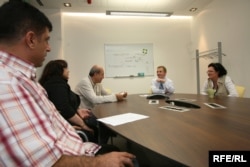 Members of RFE/RL's Iraq service discuss the day's news in a conference call with colleagues in Baghdad.
RFE/RL: What is your greatest challenge at the moment, and moving into the future?
Danilochkin:
The overall largest challenge is to keep everyone safe and alive in Iraq. That's the biggest challenge...We still have had two people who were killed. Unfortunately one of them was tortured before being killed. We had another person who was kidnapped. That was a very heavy toll on the families and friends of those guys, on the colleagues...we have people of different [religious] beliefs, different sects, different political views, but the issue here is our work and our team and our cooperation, it's not about 'I am this and you are that.' The way that someone is different from you doesn't get into the way of cooperation.
[Also,] technical equipment. We are trying to be a 21st century multiple-media news organization, which means technology. If there is no electricity, the 21st century news organization doesn't produce anything, because everything runs on electricity. So we have a situation where electricity can paralyze us...
Recently we received a story from a stringer with a picture. He said, 'Expect two more pictures by 2am tomorrow.' Why? 'Because the current speed of my internet will not allow me to upload it faster.'


We still have some equipment in Baghdad which bears the marks of the explosion which happened in November 2005. Which is good, it's running, and we are saving every dime. Because we could have said 'Look at this dent in this thing, we need to replace it.' Technicians recently sent a picture saying, 'Well, this computer is very good, except that nothing but the screen and keyboard works.' So there is no sound card, there is no...you can't listen to anything, you can't use the mouse, you can't do this, you can't do that...but it is still able to record, so we are still using this computer to record just the feeds from [Iraqi] television. It's good that the guys are trying to use every resource we have.
RFE/RL:
Some people might find it odd that a Russian is the head of RFE/RL's Iraq service. How did you manage to find yourself in this position?
Danilochkin:
The Iraqi service needed a replacement for the management, [because] the service was supposed to be closed in 2004, so they needed somebody to run the service temporarily until its final day on air. I have some training and background in the Middle East, I do speak Arabic...and also at that time I was doing some reporting on Iraq. So I guess those were a number of reasons why I was selected.
So that's how I found myself on a temporary assignment that turned out to be several years worth of work. I was really very happy [when] it became clear that the service was not going to be shut down by a certain date, because I thought that really it had a reason to exist, and it still has a reason to exist, I believe. The reason is changing as the situation in Iraq is evolving. The service is also evolving, trying to adapt itself to the new challenges, and I think that is the reason for its vitality.
-- Alex Mayer