RFE's Radio Azadi has distributed nearly all 20,000 solar-powered, hand-cranked radios to Afghans across the country. The project, which began on September 17, was designed to promote access to news and information, especially in rural and remote areas where illiteracy rates are among the highest in the world and where radio is often the only means for people to receive news.

During the project's initial phase, radios were distributed to Afghans in poor Kabul neighborhoods and provinces close to the capital. On September 17, the AP filed this story from one of the project's first distribution sites - an Internally Displaced Persons (IDP) camp on the outskirts of Kabul.
An estimated 250,000 Afghans live in such refugee camps, having been displaced from their homes due to conflict. Most suffer from extreme poverty and lack of electricity. In addition to IDP camps near Kabul, Radio Azadi distributed radios to inhabitants of the Shaidaye refugee camp east of Herat and the Mukhtar refugee camp on the outskirts of Lashkar Gah in Helmand.
Now, I will buy a mobile phone because I can charge it with this radio!
An elder in one of the camps said, "Thank you Radio Azadi, for these radios. Now we will know what is going on and we will raise our voices accordingly."
At two K-12 girls' schools in Deh Dadi in Mazar-e-Sharif, Radio Azadi handed out several hundred radios to many of the 3,000 students who study there. Like most Afghans living outside the major urban centers, Deh Dadi's 200,000 inhabitants are largely without power, which prohibits the use of TVs and other electronic devices that require an external power source.
In Ghazni in central Afghanistan, Kuchi nomads received several hundred radios. Afghanistan has a significant nomadic population which is largely illiterate and predominantly without permanent housing. A senior Kuchi leader told RFE, "Most Kuchis are not well-informed about national and international issues. These portable radios will help them better understand what is happening in Afghanistan."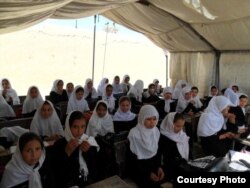 Deh-Dedi Girls' School in Mazar-e-Sharif
RFE has been cooperating with the Afghan Air Force and ISAF in order to reach some of the more remote and isolated locations via helicopter. On the ground, Radio Azadi has been working with local authorities, community leaders, and the Afghan police to coordinate and secure the distribution effort.
The radios themselves, produced by US-based Eton Corporation, are equipped with solar panels and a hand-crank for easy, battery-free charging. Earlier this year, Eton worked with the American Red Cross to distribute similar radios in Haiti following the disastrous earthquake. The radios can also be used to charge mobile phones, which is particularly useful to people living without electricity. As a shepherd from Jawzjan province told a Radio Azadi reporter, "Now, I will buy a mobile phone because I can charge it with this radio! There is no electricity in the desert where I am stationed with my animals."
Demand for the radios has been huge, and as word got out about the project, Radio Azadi received dozens of calls from people wanting to make sure that their village, school, or organization would be included in the project.
With 20,000 radios, we are giving 20,000 people a chance to connect more easily with their government and their surroundings.
One such call came from a representative of the Herat Blind Association, who said that many of the visually impaired people he works with are not only unable to watch TV, but also have difficulty inserting batteries into certain kinds of radios. A solar-powered, hand-cranked radio would be extremely useful for them. After the call, Radio Azadi delivered a shipment of radios to the group.
Nevertheless, demand far exceeded supply. There were rarely enough radios for everybody.
"Thanks for the radios, but there are too few!" complained one resident of Helmand. "Look at how many people did not get one."
Radio Azadi's Kabul bureau chief, Amin Mudaqiq, who coordinated the project, hopes that there will be more initiatives of this kind in the future.
"With 20,000 radios, we are giving 20,000 people a chance to connect more easily with their government and their surroundings, regionally and beyond," he says. "This is a small but important contribution to supporting a well-informed citizenry, which is so important for the future development of our country."
Take a look at the photogallery here.

--Julian Knapp