Blog: Pakistan Closes RFE/RL Islamabad Bureau
Pakistani politicians, U.S. officials, press freedom groups, and international organizations are reacting to the news of the closure of RFE/RL's bureau in Islamabad.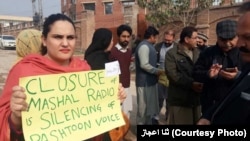 Summary
Pakistan's Interior Ministry cleared and sealed the offices of RFE/RL's Pashto-language service in Islamabad on January 19, on orders from the country's spy agency, the ISI, which characterized the broadcaster's programs as being "against the interests of Pakistan" and aligned with a "hostile intelligence agency's agenda." Radio Mashaal, as the service is known locally, is funded by the U.S. Congress with the explicit mission to provide an alternative to extremist propaganda in Pakistan's Pashto-speaking regions along the border with Afghanistan. Its programs focusing on local communities, women and youth, and promoting education, family health, and nonviolence have earned numerous awards and sizeable audiences, including 10 million views of its content on YouTube last year. The closure comes amid increased bilateral tensions between the United States and Pakistan following Washington's recent decision to suspend military aid to Islamabad.
On the day of the closure, RFE/RL President Thomas Kent said, "Radio Mashaal serves no intelligence agency or government," adding "Our reporters are Pakistani citizens who are dedicated to their country and live and raise families in the villages in which they report. We demand that their safety be ensured, and that they be permitted to resume their work without fear or delay."
The closure of the bureau limits Radio Mashaal's ability to:
Inform citizens of developments affecting them and their communities.
Educate citizens, including youth in particular, about nonviolent political solutions and fundamental human rights.
Engage citizens in informed discussion and debate over issues that affect them.
Bridge differences between citizens and local authorities to solve local problems.
Report to global audiences on developments in Pakistan that involve regional security and Pakistan's international commitments.