Journalist Daud Khattak, who who will soon take up an assignment in our Washington bureau after working in Prague for RFE's Pashto-language Radio Mashaal, has been selected as a
2011-2012 Paul Miller Washington Reporting Fellow by the National Press Foundation
.
"It's an honor because the Paul Miller fellowship only goes to outstanding journalists who clearly have a very bright career and future ahead of them," said Christian Caryl, RFE Washington Chief Editor.
The Paul Miller Washington Reporting Fellowship is for journalists who are trying to better understand how to cover Washington, Caryl explained. Fellows learn about the way bureaucracy works, developing sources, getting access to information and building relationships with Washington players and people in charge of public relations and information networks.
"The object of this fellowship is to give people a leg up and familiarize them with this unique reporting environment," Caryl added.
Khattak is originally from Pakistan, where he reported on activities in his country's northwestern tribal areas for international and Pakistani English-language newspapers. Before joining Radio Mashaal, he worked for three years in Afghanistan in the Pajhwok Afghan News agency. Khattak's analyses on extremism in Pakistan appear regularly on the "Foreign Policy" website, and his
2010 report on the situation in Pakistan's Swat Valley
was published by the New America Foundation.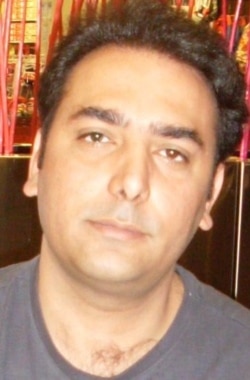 Shaheen Buneri, Khattak's colleague at Radio Mashaal, has also been recognized for his work by the Pulitzer Center on Crisis Reporting, which awarded him a
2011 Persephone Miel Fellowship
. The fellowship, a joint project of the Pulitzer Center and Internews, allowed Buneri to travel to his native Swat Valley where he
produced a series of reports
on lingering resentment two years after the Pakistani government deployed 25,000 troops to wrest control of the region from the Taliban.
-- Sarah Adler