Millions of Afghans will go to the polls today (August 20) to vote in the country's second-ever democratic elections for president and provincial council representatives. The vote comes amid growing security concerns, including increasingly bold Taliban attacks, intimidation and threats, as well as allegations of vote rigging and fraud. RFE/RL's Afghan service, locally known as Radio Azadi, is the most popular radio station in the country and just hosted a landmark
televised presidential debate
. To get a feel for what it's like to be an Afghan journalist covering these issues in such a challenging situation, we interviewed Muhammad Amin Mudaqiq, the head of Radio Azadi's bureau in Kabul, Afghanistan.
RFE/RL:
How did you get your start in journalism? What is the story of how you got involved in broadcasting for Radio Azadi?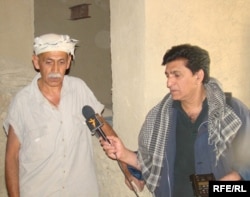 Azadi Radio reporter Khan Mohammad Seend interviews an Afghan archeologist in Kabul 12-June-2009
Muhammad Amin Mudaqiq:
When I was a student in Mazar-i-Sharif in 1972, our hostel was located next door to a government sponsored local daily, Baidar. I was passing by the Baidar office almost every day, and saw journalists working there with so much enthusiasm. As I was living so close to distribution cell of the paper, I was able to read almost all the editions every day. Gradually I became interested in writing stories, particularly on community issues. I starting writing for Baidar and enjoyed the reaction to my stories both by the people and government officials. Since then, I have remained associated with news media. Although I studied Islamic law and art subjects in school, my second subject beside regular study has always been journalism. During the Soviet occupation of Afghanistan in 1980s, I wrote hundreds of stories which highlighted the plight of Afghan refugees and those Afghans living under Soviet occupation. After working as a journalist and broadcaster for over a decade, I became a media specialist for the Afghan section of the US Embassy in Pakistan in 1989. I continued in that job for 16 years until Radio Azadi offered me this job as bureau chief to lead a group of about 100 journalists, artists, and playwrights. It was a difficult start as I had to jump from a theoretical business as an analyst to a pragmatic job as media manager. However, I am doing well after spending almost five years in this position.
RFE/RL:
If you had to persuade a person to listen to Radio Azadi instead of the Taliban radio stations that reportedly spread hatred and propaganda, how would you convince them?
Muhammad Amin Mudaqiq:
We certainly do not tell people which radio station they should listen to, but by telling the truth, people can easily judge that we are the best source of information. By winning people's confidence, Afghans now prefer [Radio Azadi] not only over Taliban radio stations, but over many other Afghan media outlets as well. That is surely the reason that makes us the number one radio station in Afghanistan.
Whenever there is a crisis, the services of three people are vital: A doctor to treat the casualties, a policeman to bring order, and a journalist to give the true information to the people.
RFE/RL:
Life in Afghanistan is dangerous for journalists. Why do you feel it's worth it to continue doing what you do in such a dangerous environment, and in the face of serious threats?
Muhammad Amin Mudaqiq:
In any profession the most successful and memorable people are those who remain loyal to their duties during difficult times. Today Afghan people urgently need true information, so they can decide their next course of action and [this information] enables them to act correctly. Whenever there is a crisis, the services of three people are vital: A doctor to treat the casualties, a policeman to bring order, and a journalist to give the true information to the people.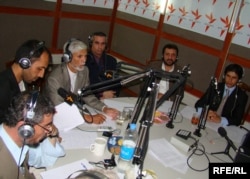 Salih Mohammad Salih and Zhakfar Ahmadi of Radio Azadi host a call-in show with presidential candidates in the studio of Radio Azadi's Kabul bureau, 24Jun2009
RFE/RL:
Are there any specific challenges you or your reporters face in covering today's Afghan elections?
Muhammad Amin Mudaqiq:
The challenges in covering the upcoming Afghan election are numerous and huge, ranging from insecurity, to threats by strongmen (warlords, drug lords, armed militia, tribal feuds…), to lack of access to information. But the mostly difficult challenge is the lack of freedom of movement created by the insurgent activities. This problem sometimes takes away our ability to go to an area from where a news story originates. For instance, if there is a claim of rigging or irregularity in a polling station, we need to be able to go to the site to investigate the claims. But now, sometimes we cannot go there due the insecure environment. In such cases, we have to rely on what the rival sides say, the claims and counterclaims. Obviously, this is not a true picture of the situation, and does not satisfy us as journalists.
-- Alex Mayer