RFE/RL Experts Speak At CSIS Panel On Uzbekistan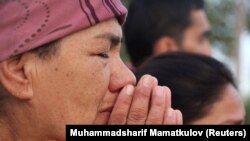 Washington think-tank CSIS and RFE/RL partnered to convene an expert session on September 7 on "Regime Succession In Uzbekistan," with guests Eric McGlinchey of George Mason University; Sebastien Peyrouse of George Washington University; Bruce Pannier, RFE/RL Senior Correspondent; and Alisher Sidikov, Director of RFE/RL's Uzbek Service.
In a wide-ranging discussion, panelists discussed the country's likely leadership scenario for the short-term, and how numerous issues factor into Uzbekistan's longer-term governance, including public expectations, internal patron-client relationships, relations with Moscow, China's interests, and religious extremism. There was consensus that the status quo will continue for the next six months, but opinions differed over the future of Karimov's legacy and what will happen next.
​