Unpacking Russia's Domestic Violence Decriminalization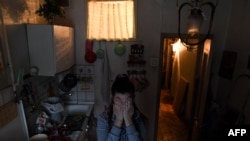 In February, Russia passed a law decriminalizing some forms of domestic violence, a move that rights groups have called a step backwards for Russia and dangerous for women and children. What's behind this law, and how has the discussion in Russian media reflected and shaped the views of Russian society? In this episode of Heard It From Her, we speak with Irina Lagunina, a senior journalist and editor with RFE/RL's Russian Service who has been covering Russian politics, economics, international relations, and human rights for more than 20 years.
About This Podcast
Heard It From Her is a conversation with a woman in media with a story to tell. Each month we'll speak with a journalist from RFE/RL or other independent media in our broadcast region to talk about her reporting, the issues she confronts, and the political, societal, and cultural context in which she works. For more on women in media, follow Lady Liberty on Facebook and Twitter.