SvobodaToday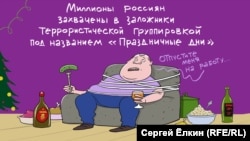 VIDEO REPORTS
Putin's Economic Forecast Meets With Skepticism and Faith
In an informal street poll following Russian President Vladimir Putin's remarks to the German Bild magazine that economic recovery is on the way, Muscovites said, variously, that a recovery was "doubtful for now," that the country was "in a swamp and getting in deeper," and while improvement wasn't evident, Putin must know what he's doing. (Russian Service)
Russia And Serbia Discuss Arms Deals
Russian Deputy Prime Minister Dmitry Rogozin met with Serbian Prime Minister Aleksandar Vucic in Belgrade on January 11 to discuss the potential sale of a Russian surface-to-air missile system.
For Ukrainian Artist, Money Is Art
Instead of canvas, Odesa artist Kyrylo Bondarenko paints on bills of different currencies to illustrate his view that money has outlived its purpose and should be given up. (Ukrainian Service)
NEWS HIGHLIGHTS
The Power Vertical Briefing: Russia's Winter Of Discontent
The price of oil plunged to a 12-year low over Russia's New Year and Orthodox Christmas holiday season. How low can it go?
And Russian 'Banker Of The Year' Goes To...Son Of Putin Ally
Dmitry Patrushev, the son of President Vladimir Putin's powerful national security adviser, has been proclaimed "Banker of the Year."
Prominent Blogger Says Russia Moving Toward Chinese Internet Control
In a "most-read" interview on RFE/RL's Russian language website, prominent mathematician and blogger Mikhail Verbitsky, a founder of the alternative Live Journal social network, said that he's modified his earlier predictions and now believes Russia is heading toward a Chinese model of total Internet censorship. (In Russian)
'Pensioner Patrols' To The Rescue
A Kremlin official has proposed creating volunteer brigades of elderly men and women -- "pensioner patrols" -- to keep an eye on troubled families and report on health and safety violations.
In Moscow, 'No Pants Subway Ride' Gets Frosty Reception
Russian officials are hinting at possible prosecutions for the bare-legged stunt -- if only they can determine what, if any, laws were broken.
Russia Will Face God's Punishment
In an interview with RFE/RL, Soviet liberal politician and veteran Ukrainian diplomat Yuri Scherbak said that among other things, Russia will have to face the difficult reality of no longer being able to rely on its energy resources as a weapon. (In Russian)
Ukrainians To Suffer Little Impact From Ban On Russian Goods
Economists say the share of Russian products banned by Ukraine is low, and they can be easily substituted with imports or local alternatives. (In Ukrainian)
Azerbaijan May Face Default In Six Months
Azeri economist Natig Jafarli says that Azerbaijan has hard-currency reserves for the short-term, but faces significant debt obligations that will require international financing. (In Russian)
Gazprom Fueling Political Scandal In Georgia
Georgia's energy minister reportedly met with Gazprom officials to discuss the supply of Russian gas to Georgia.(In Russian)
About Svoboda Today
Svoboda Today is a quick, daily guide to developments in Russia, Ukraine, and the region, delivered from our bureaus direct to your inbox. Sign up for Svoboda Today daily email newsletter here.