SvobodaToday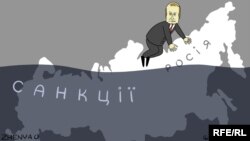 VIDEO REPORTS
Several police officers in Uzbekistan and Kyrgyzstan have become Internet sensations after they jumped on cars to stop them.
Supporters of Kosovo's former prime minister Ramush Haradinaj called on France to release him from custody after he was arrested on a Serbian war-crimes warrant.
Viewers of a May 2016 report published by RFE/RL's Kyrgyz Service about a disabled six-year-old boy responded with assistance that has enabled him to walk and attend school.
Many respondents to an informal street poll in Moscow said they'll remember U.S. President Obama's negative remarks about Russia and its leadership, but some said he'd performed his professional duties better than his Russian counterpart because "his people live better." One person said she'll remember "Beyonce's terrific performance" at his second inauguration. (Russian Service)
OTHER NEWS
U.S. Vice President Joe Biden will visit Ukraine for talks with Ukrainian President Petro Poroshenko on January 15.
Russian legislators returned from recess by approving the first reading of a bill that would decriminalize assault in the family home.
Russian media reports that Ukraine's radio and tv council has banned broadcasts of the independent, Russian TV station Dozhd (Rain) because of the station's repeated violations of Ukrainian legislation prohibiting entry to Crimea from Russian territory, and its broadcast of Russian advertising. (in Russian, Current Time TV)
Chechen leader Ramzan Kadyrov has said dozens of suspected militants were detained and four of them killed in a special security operation in Chechnya on January 11.
Activists in St. Petersburg have protested the decision of the Russian city's government to hand over the landmark St. Isaac's Cathedral to the Russian Orthodox Church.
The European Parliament's civil liberties committee voted overwhelmingly for visa liberalization for Georgia to the EU's Schengen zone.
Serbia's president Tomislav Nikolic has urged greater protection for the rights of Serbs in the Balkan region after a meeting with former Bosnian Serb leader Momcilo Krajisnik, who was convicted of war crimes.
A Czech investigative journal quotes local intelligence officers as saying they have no evidence that a lawyer for President-elect Donald Trump traveled to the Czech capital last year.
A Kazakh court has set a date for the high-profile trial of Bigeldy Gabdullin, a well-known journalist charged with extorting money from officials.
Tajik President Emomali Rahmon has signed decrees dismissing the current chief of the Dushanbe city administration, and appointing his eldest son, Rustam Emomali, head of the country's anti-corruption agency, as his successor. (in Russian, Tajik Service)
Turkmenistan's new international airport, unveiled in the capital city of Ashgabat only months ago, is suffering from settling at its foundations that is causing glass windows to crack and communications systems to fail. (in Russian, Turkmen Service)
Andrey Pivovarov, coordinator of the NGO Open Russia, called efforts by the Russian Orthodox Church to acquire St. Petersburg's St. Isaac's Cathedral, currently a museum, "selfish," claiming it will afford the Church access to sizeable financial flows while holding the city responsible for maintenance. (Russian Service)
U.S.- based analyst Maria Snegovaya dismissed speculation that Secretary of State nominee Rex Tillerson will oversee a policy critical of Russia under the administration of President-elect Donald Trump, telling an RFE/RL roundtable, "Look at Rex Tillerson's background. He has close ties with Sechin and an award from Putin. Russia expects energy cooperation and, most importantly, lifting sanctions so that Russian oil companies can use Western technology." (Russian Service)
About Svoboda Today
Svoboda Today is a quick, daily guide to developments in Russia, Ukraine, and the region, delivered from our bureaus direct to your inbox. Sign up for Svoboda Today daily email newsletter here.