SvobodaToday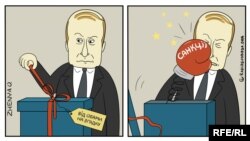 VIDEO REPORTS
Russian President Vladimir Putin's assault on the West did not come out of the blue.
Outgoing U.S. Vice-President Joe Biden urged the incoming Trump administration to continue to be a strong supporter of Ukraine.
Battle-hardened veterans belonging to an ultra-nationalist paramilitary group in Russia have been training young children for combat.
At least 38 people were killed when a Turkish cargo plane crashed into homes near the Kyrgyz capital, Bishkek.
Tajikistan is seeing booming business in organ transplants, a treatment that has been available there for only five years.
OTHER NEWS
Making his final visit to Kyiv as U.S. vice president on January 16, Joe Biden urged the incoming administration of President-elect Donald Trump to support Ukraine.
Russian Foreign Minister Sergei Lavrov says any claims that Moscow is staging cyberattacks to interfere in European elections are "dreamt-up."
Moscow has welcomed U.S. President-elect Donald Trump's reference to NATO as "obsolete," calling the alliance a "vestige" of the past, as key NATO ally Germany reacted with concern to his remarks.
Lawyers for the Russian government and former shareholders of defunct Russian oil giant Yukos are back in court in what could be the final stages of a $50 billion battle over ex-tycoon Mikhail Khodorkovsky's once-massive energy company.
Alikhan Muzaev, a former police officer and personal bodyguard to Chechen leader Ramzan Kadyrov, was detained on January 15th on suspicion of plotting an armed anti-government attack. Authorities presented his body to his family a few hours later, explaining his death as a suicide. (In Russian, Current Time TV)
Russian protest-performance artist Pyotr Pavlensky says he has fled Russia after authorities questioned him about allegations that he tried to rape a woman.
An exodus from the Russian PEN Center took a new turn when the organization claimed that 2015 Nobel Literature Prize winner Svetlana Alexievich could not have quit because she was neve
Ukraine has sued Russia at the UN International Court of Justice in The Hague, accusing Moscow of acts of "terrorism" and "discrimination" in eastern Ukraine and Crimea.
Charles Kushner, the father of President-elect Donald Trump's son-in-law Jared Kushner, whose family has roots in today's Belarus, will donate $60,000 to fund the construction of a memorial wall in the Museum of Jewish resistance in the town of Navahradak. (Belarus Service)
Russian media are reporting that Moldovan President Igor Dodon has arrived in Moscow to meet President Vladimir Putin for talks, with the breakaway Moldovan region of Transdniester to be on the agenda.
Turkish authorities say they have captured the man they believe gunned down 39 people at an Istanbul nightclub on New Year's Day.
In the latest in a series of high-level detentions in Kazakhstan, a former deputy chief of President Nursultan Nazarbaev's administration has been arrested.
A commercial matchmaker has come under fire in Kazakhstan over efforts to recruit bachelorettes for wealthy Chinese customers willing to plonk down hard cash for a mate.
Political analyst Andrey Piontkovsky told RFE/RL that Russia needs the U.S. to counter China's expansion, since any Western partnership with China leads to Russia's marginalization, the subordination of its interests to China, and a loss of control over the Far East and Siberia. (over 42k views on Russian Service website)
About Svoboda Today
Svoboda Today is a quick, daily guide to developments in Russia, Ukraine, and the region, delivered from our bureaus direct to your inbox. Sign up for Svoboda Today daily email newsletter here.