SvobodaToday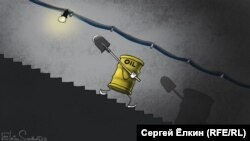 VIDEO REPORTS
Battle For The 'Nemtsov Bridge'
The standoff continues between Moscow civil activists seeking to protect an unofficial memorial to Boris Nemtsov marking the place where he was slain, and authorities' repeated attempts to remove it. (Russian Service)
Ukraine Prepares Elite Police Unit
Members of a new unit called "Cord," which some say is modeled on American SWAT teams, undergo mental, polygraph, and physical strength tests. (Current Time TV)
Illegal Coal Miners In Kyrgyzstan
Southern Kyrgyzstan is dotted with small coal mines that operate without official permission or regulation, but pay their workers an above-average wage -- at the cost of risking life and limb.
NEWS HIGHLIGHTS
PHOTOGALLERY: What's A Litre Of Oil Worth?
Not much, judging from a quick trip through a Moscow supermarket. A litre of average vodka costs 26 times as much, a litre of beer or a bottle of cooking oil are both seven times as expensive, and for five litres of oil you could buy a carton of milk or a bottle of Coke. (In Russian)
The Power Vertical's The Briefing: Putin's Pit Bull
Is Ramzan Kadyrov going rogue? Plus the economy and the impact on Russia of lifting sanctions in Iran.
Polish President Wants More NATO Troops
During a visit to Brussels on January 18, Polish President Andrzej Duda called on NATO to deploy "substantial" numbers of troops in Eastern Europe to safeguard Poland and the region from a more aggressive Russia.
In U.S. Money-Laundering Case, Shades Of Russian Corruption
When U.S. vs. Prevezon opens on January 27, involving transfers from Russia's Central Bank to Swiss bank accounts estimated at $230 million, it will be the first case stemming from the original tax-fraud scheme to make it to trial in a U.S. court.
Kadyrov Ally Threatens To Unleash Dog On Opposition
Chechen Parliament Speaker Magomed Daudov, a close ally of strongman Ramzan Kadyrov, posted a photo of a menacing dog named Tarzan to Instagram with the message that the dog's "fangs are itching" to get at opposition figures he suggested were American stooges.
Belarus's IT Sphere: High Wages And Aspirations
The industry employs 21,000 people, makes up 1 percent of the country's GDP, and aspires to compete on a global level. (In Belarusian)
Ten Things Suggesting Belarus Is Not So Soviet Anymore
Knowledge of English, a more relaxed attitude to foreigners, trips abroad, consumer items, and even traffic lights suggest that Belarus is not the USSR anymore. (In Belarusian)
Russian Duma Committee Comes Out Against Anti-gay Bill
Contending it was superfluous, redundant, or likely to draw unwanted attention to the issue, members on January 18 declined to endorse a draft bill that would introduce fines and arrests for public displays of homosexuality.
Russian Journalist Receives Political Asylum In Ukraine
Dmitry Shipilov, who spent one year in a Russian prison after interviewing members of a pro-federation movement in Siberia, has received refugee status in Ukraine. (Current Time TV)
Must See: "How We Sport" In Turkmenistan
President Gurbanguly Berdymukhammedov shows "how we sport" in a video (scroll down) shown on state TV promoting healthy lifestyles and a new anti-smoking campaign. (Current Time TV)
About Svoboda Today
Svoboda Today is a quick, daily guide to developments in Russia, Ukraine, and the region, delivered from our bureaus direct to your inbox. Sign up for Svoboda Today daily email newsletter here.