SvobodaToday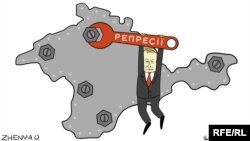 VIDEO REPORTS
Estonia is giving qualified members of its armed forces the option of serving as cyber warriors rather than in the infantry.
Terrible odors, contaminated water, disease, and a rising pile of trash: that's how residents of a village south of Moscow describe the consequences of a nearby landfill.
Once an established lawyer, Yury gave up his urban lifestyle for a more serene existence underground.
OTHER NEWS
The Kremlin says Russian President Vladimir Putin and U.S. President Donald Trump will speak by telephone on January 27, their first conversation since Trump took office a week ago.
Russian media have reported that another Federal Security Service FSB officer has been arrested on treason charges in a case that may be linked to cyberattacks targeting the U.S. presidential election campaign.
Russia's State Duma has approved a controversial bill that would sharply reduce penalties for many cases of domestic abuse.
Ukrainian President Petro Poroshenko has signed a decree allowing troops from the United States and other NATO countries to carry out training missions in Ukraine during 2017.
A Brazilian citizen who authorities say fought alongside Russia-backed separatists in eastern Ukraine has been sentenced to 13 years in prison by a Kyiv court.
Ukraine has released a Georgian man who is wanted in Russia on suspicion of murder and fought against Russia-backed separatists in eastern Ukraine.
Activists have sought to set up a blockade on a railway near the border between Ukraine-controlled and Russia-backed territories in Luhansk to protest Kyiv's continued trade with separatists. Critics say the blockade could threaten Ukraine's supply of anthracite coal, which is available only in the separatist-controlled territories. (Ukrainian Service)
Residents of Crimea's coastal Gurzuf village are complaining about a large-scale construction project undertaken under the auspices of the former flagship Soviet youth camp, Artek. Locals accuse Artek of requiring them to carry special identification documents, seizing village lands illegally to build villas for oligarchs, and erecting a 3-meter high brick wall to restrict access to territories now under its control. (Russian Service)
A decree signed by Uzbek President Shavkat Mirziyaev calls for "immortalizing" the memory of his predecessor.
Officials in Uzbekistan are playing down expectations that the tightly controlled Central Asian nation will soon abolish exit visas.
The mayor of Tajikistan's southern city of Kulob is taking steps to address educational deficits among his staff and the consequences of a university system in which students routinely pay bribes to pass exams.
The UN human rights chief has marked Holocaust Remembrance Day with a statement highlighting the dangers of anti-Semitism and all forms of racial and religious hatred and discrimination.
RFE/RL's investigative program Schemes has discovered that Ukrainian members of the Minsk negotiating group are traveling to Belarus in a private charter jet used by Ukrainian oligarch Viktor Pinchuk. Pinchuk has said publically that Crimea should not stand in the way of an agreement that would end the conflict in Ukraine's eastern territories. (Ukrainian Service)
Central Asia expert Arkady Dubnov dismissed Kazakh President Nursultan Nazarbaev's reported plans to devolve some powers to parliament as an "imitation" of change, claiming there is no evidence of real movement toward political or judicial reform. Genuine political parties remain absent, he said, "and the parliament, like the State Duma in Russia, is a transmission belt of the presidential administration." (Russian Service)
About Svoboda Today
Svoboda Today is a quick, daily guide to developments in Russia, Ukraine, and the region, delivered from our bureaus direct to your inbox. Sign up for Svoboda Today daily email newsletter here.