SvobodaToday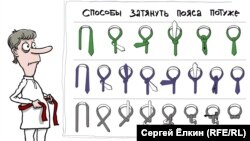 VIDEO REPORTS
Separatist Radio Extends Reach Over Donbas
[In Ukrainian] Two FM stations that broadcast separatist propaganda have extended their signal and can now be heard by residents in Ukraine-controlled areas in the Luhansk region. (Ukrainian Service)
'We Want The Same Dollar Exchange Rate That Crimea Has!'
[In Russian] Mortgage holders in Russia gather in banks to demand the same pre-crisis exchange rates granted to residents of Crimea. (Russian Service)
Kazakh Filmmakers Turn To YouTube To Showcase Work
A group of independent Kazakh filmmakers and activists has launched Partyzan TV, a YouTube channel created to showcase their work.
This Kazakh town's road is all signs and no asphalt.
[In Russian] These are excerpts from a typical television broadcast in Uzbekistan, in which the boxer, the teacher, the student, and everyone else praises their president. (Current Time TV)
NEWS HIGHLIGHTS
Pope Francis and Patriarch Kirill are in Havana today for the first meeting of the heads of the Roman Catholic and Russian Orthodox churches in the history of Christianity. Many Russian observers believe the event is intended to promote Russia's global image and extend its influence. (In Russian)
IMF Demand Just Latest Red Flag For Poroshenko
The Ukrainian president's response to IMF head Christine Lagarde's February 10 warning sought to provide assurances about the government's commitment to reform, but also highlights the risk in the current climate of dramatic showdowns in Ukraine.
Russia Denies Plans To Devalue Ruble
Russia's central bank dismissed as "sheer stupidity" reports that the Kremlin is considering devaluing the currency to help ease pressures to cut spending and raise taxes.
Does Interpol Want Khodorkovsky?
Self-exiled tycoon Mikhail Khodorkovsky was publically added to Interpol's most-wanted list on February 11 on charges of involvement in the 1998 murder of Neftyugansk Mayor Vladimir Petukhov. Former State Duma deputy Alexey Kondiarov says the charges are the latest attempt by Russian authorities to obstruct Khodorkovsky's political activities. (In Russian)
Can Independence Solve the Russia-Chechnya Relationship?
Russian political analyst Andrey Piontkovsky says Russia should offer Chechnya independence and establish bilateral relations pursuant to the 1997 Russia–Chechnya Peace Treaty. (In Russian)
Corruption Threatening Public Safety And The State
Elena Panfilova, vice president of Transparency International in Russia, told RFE/RL that the size of Russia's economic "pot" is shrinking, but the scale of corruption and the appetites of corrupt officials remain the same. (In Russian)
Environmental Activists Face Off Against Real Estate Developers
Recalling Russia's 2010 Khimki protests, this survey of recent citizen campaigns shows that environmental activism can be hazardous to your health. (In Russian)
Russian Court Says Pay And Pray
A court in Nizhny Novgorod ordered the local diocese of the Russian Orthodox church to repay a company for a debt, and pray for the health of its owners. (Current Time TV)
About Svoboda Today
Svoboda Today is a quick, daily guide to developments in Russia, Ukraine, and the region, delivered from our bureaus direct to your inbox. Sign up for Svoboda Today daily email newsletter here.