SvobodaToday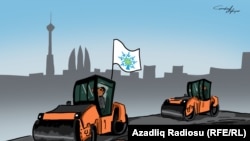 VIDEO REPORTS
Vladimir Voronin: Russia Symbolized By Lenin, Stalin, And Putin
In this exclusive interview, part of RFE/RL's "Russia & Me" video project, Moldova's former president recalls rejecting Russia's plan to grant broad powers to separatist Transdniester, and says relations with Moscow have become "a lot cooler."
Russians Reject Media's Silence On Child Murder
The majority of Russia's TV channels did not report the gruesome murder of a 4 year-old child allegedly by her nanny on February 29. Kremlin spokesperson Dmitry Peskov said,"it's not the kind of thing we need the mass media to publicize." Moscow residents, informally polled at a spontaneous memorial dedicated to the girl, knew about the killing through social media and other means, and said, mainly, that while news of the murder could spark ethnic tensions, people needed to know. (Russian Service)
Finding New Life Near The Frontline
Oleg Livanchuk, chairman of the military-civil administration of Krasnogorivka, in Ukraine's eastern Donetsk region, provided a tour of the city which, after more than a year of fighting, is slowly coming back to life. (Ukrainian Service)
Following a February 22 RFE/RL report about Aichurek Sulaymanova, a 13-year old girl who, after school, cooks, cleans, and scours markets to gather plastic bags for money to support her younger brother and wheelchair-confined mother in a basement apartment in Kyrgyzstan's capital Bishkek, people around the world started to help.
NEWS HIGHLIGHTS
EU Diplomats Extend Sanctions On Yanukovych
European Union ambassadors have decided to extend an asset freeze against former Ukrainian President Viktor Yanukovych and 15 of his close associates for at least one additional year.
Ukraine Counts Military Dead And Injured In East
According to figures for the war in the country's eastern regions released by Ukraine's Foreign Ministry on February 29, 2,600 soldiers have died and over 9,000 have been injured. Separatists opened fire 2,500 times, killing 12 soldiers and injuring over 150, during the first two months of 2016. (In Russian)
How Boris Nemtsov Was Murdered
This investigation by journalists with the Russian independent newspaper Novaya Gazeta presents a plausible version of the events surrounding the murder, and new material gathered from surveillance tapes and their own research in Chechnya.
Ukraine's Hike In Energy Bills Hits Consumers
Effective March 1, millions of Ukrainians were hit with a 25 percent hike in electricity rates, with another increase expected in September.
Colorful Campaign Begs Kadyrov To Stay
Days after Chechnya's leader announced "my time has passed," a public campaign imploring him to stay in power has taken off, stoking speculation that Kadyrov's imminent departure may be anything but.
New Billionaire Tops Forbes' Russia List
Russia's newest richest person is Leonid Mikhelson, co-owner of the petrochemicals and gas processing holding company Sibur and the gas firm Novatek, who, with an estimated worth of $14.4 billion, tops Forbes' list of Russia's 74 billionaires. (Current Time TV)
How Do Ukrainians Understand Crimea and Donbas?
According to prominent Belarusian media personality Pavel Sheremet, Ukrainians hold Russian President Vladimir Putin, not Russians themselves, responsible for what they call "Russia's war with Ukraine." The distinction may disappear in the absence of peace, and the harm to relations between the two countries may last for decades. (In Russian)
Prosecutor Proposes 23-Year Sentence For Savchenko
RFE/RL is live-streaming from a courtroom in Donetsk, where the Russian prosecutor has asked the court to find Ukrainian pilot Nadiya Savchenko guilty of killing members of a Russian TV crew and illegally crossing the Russian border, and proposed a prison sentence of 23 years. (In Ukrainian)
About Svoboda Today
Svoboda Today is a quick, daily guide to developments in Russia, Ukraine, and the region, delivered from our bureaus direct to your inbox. Sign up for Svoboda Today daily email newsletter here.